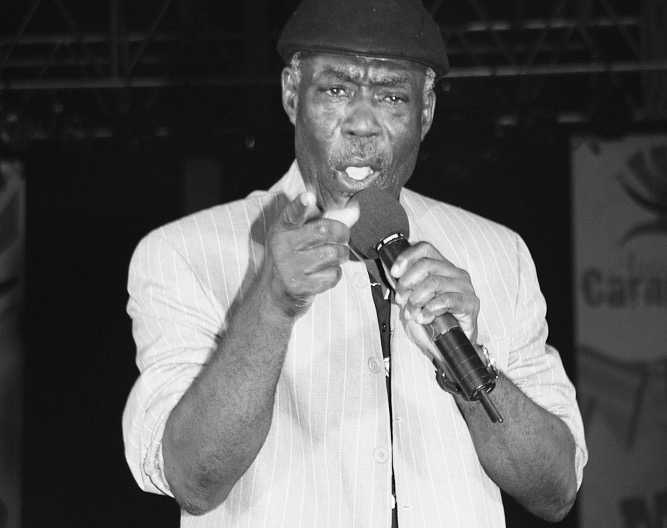 Swallow: the end of the magic
Tributes immortalising legendary calypso and soca icon, Sir Rupert 'King
Swallow' Philo have been pouring in since the announcement late Friday that he had passed away peacefully at his home in Willikies.
Among those who have paid tribute to Sir Rupert are government officials, calypso lovers and his fans.
King Swallow will forever be remembered for his considerable contribution to placing Antigua and Barbuda on the 'calypso map'. Having attained superstar status, he gained the love and admiration of thousands of people spanning the Caribbean, United States, Canada and Europe.
Minister of Culture, Daryll Matthew issued a statement late on Friday night in which he said that the local, regional and international calypso fraternity had lost an icon who was an avid promoter of the calypso art form.
"Sir Rupert 'The Mighty Swallow' Philo through his legendary performances and hits to include Party in Space, Subway Jam and Satan Coming Down set the bar very high for other calypsonians to emulate.
"Sir Rupert loved calypso and lived calypso. In Antigua and Barbuda through his Swallow's Calypso Pepperpot, King Swallow nurtured scores of calypsonians in perfecting their craft. The calypso tent was also known for creating numerous calypso monarchs. Swallow and his work in the tent have helped to develop the calypso art form to the stage it is today," the culture minister said.
Matthew noted that King Swallow's pioneering work in the genre of soca was unmatched. He continued that the calypso giant had established himself as a national and global trendsetter in calypso and soca which caused him to win many road march titles.
"Antigua and Barbuda and the world have lost a true icon, patriot and pioneer who through his work placed Antigua and Barbuda at the forefront of the calypso and soca arenas. On behalf of the government of Antigua and Barbuda and the Ministry of Culture, Festivals, Sports and the Arts, we extend our profound sympathies to his immediate family, friends and fans. May his soul Rest In Peace," Minister
Matthews said.
E. P. Chet Greene, former Minister of Culture and Chairman of the Carnival
Development Committee, also offered condolences to the Philo family and
memorialised King Swallow.
"[King Swallow] was a true Antiguan and Barbudan icon who has left us but
whose memory will live forever through the body of work which he has left behind and for which our country is now known globally. Say King Swallow and you're sure to conjure up images of our national flag and the sweet strains of calypso, benna and soca.
"Party in Space, Man to Man, Children of the Universe, Fire in de Back Seat,
Satan Coming Down, Don't stop the Party and Pan Conversation are among a repertoire of classics which will live on forever.
"Our nation has lost a true patriot and a servant. Long live Sir Rupert 'King
Swallow' Philo!" Greene wrote.
Ambassador to the Organisation of African States, H.E. Franklyn "King Frank-I' Francis, also also praised the contributions of the fallen calypso hero.
"Farewell Maestro of the "jamming calypso" Sir Rupert, Birdie as I always called him," Ambassador Francis said.
King Frank-I recalled visiting a pan-yard in St. Vincent and the Grenadines (1979) where he was thrilled by the excellent arrangement of "Don't stop the Party". He also shared that on a trip to Trinidad and Tobago in January he made a radio appearance in which he was inundated with questions about King Swallow.
"Well respected in the land of calypso, Trinidad and Tobago. Rest brother, you
fought a good fight and helped put Antigua and Barbuda on the carnival map," Francis. Chairman of the Antigua and Barbuda Reparation Support Commission, calypso song writer, competition judge and historian, Dorbrene O'Marde, wrote, "I lived
through, participated in the Short Shirt/Swallow debates/arguments as a rabid fan of the former. 1977, in writing, I was forced to accept that there existed. what I then defined as 'Swallow magic'; magical in melody, in imagination and critically,
a foremost exponent in the art of calypso singing, the traditional phrasing that separates calypsonian from calypso singer. He brought joy and excitement even in his social commentaries and was a delight to behold on the calypso competition stage."
O'marde offered condolences to the family and the calypso and music fraternity.
"RIP Sir Rupert, we are better because of you," his message read.
King Swallow was part of a fierce rivalry with another of the nation's calypso greats, Sir McClean 'King Short Shirt' Emanuel. The rivalry was most intense in the latter part of the 1970's, a period in which calypso in Antigua and Barbuda arrived at a pinnacle that rivaled Trinidad and Tobago's in many respects.