OECS members remain highly vulnerable to exogenous economic, environmental and climatic shocks that challenge their ability to sustain economic growth.
Foreign Minister E. P. Chet Greene presented these realities to those assembled at the opening of the 4th Ordinary Meeting of the Council of Ministers of Trade of the OECS at the Royalton Hotel on Thursday.
As Greene addressed the meeting, which has not convened since 2018, he pointed out that the sub-region's capacity to bounce back from the negative impacts of these shocks continues to be tested revealing the fragility of their economies.
"The OECS is a group of small and open economies, highly dependent on a few sectors, with travel and tourism and agriculture being among the main contributors to our GDP.
"Our current external trade performance and position is also fragile, in which imports of goods significantly outstrip exports and our services trade surplus is failing to fully cover the goods deficit.
"The composition and orientation of our export trade is also very narrow, concentrated around few goods and services and export markets," Greene said.
He noted that the OECS benefits from several trade agreements and unilateral trading arrangements including the CARIFORUM EU and UK Economic Partnership Agreements.
According to Greene, however, these arrangements have not redounded to the benefit of the sub-region.
"Trade performance under these agreements therefore remains heavily one-sided in favour of the respective trade partners.  Competitiveness and supply-side constraints continue to be a factor as well as non-tariff barriers and other regulatory and institutional hurdles in the export market.
"This is why the OECS must coordinate its positions and responses to various components of these agreements to ensure we secure the promised benefits and exploit every opportunity based on our individual and collective interests," he stated.
Secretary General of the OECS Commission, Dr. Didacus Jules, highlighted the huge trade imbalances that exist between OECS nations and their trading partners.
"ECCB data on visible trade shows that the overall balance of merchandise trade averaged negative EC$6.9 billion for the last five years even rising to EC$7.3 billion if we exclude the last two Covid 19 years.
"Imports have been outstripping exports by eleven times during the same period.
"On the trade in services side, the balance of trade is positive, averaging EC$4.4 billion in the last five years according to ECCB EBOPs data.
"This leaves an overall negative balance of around EC$2 billion," he revealed.
Dr. Jules said this data provides statistical validation of the common sense recognition that OECS countries need to find ways to reduce their import bill and to expand and diversify their exports of both goods and services.
"This needs to be a high priority goal of our OECS trade policy coordination," he urged.
The meeting concluded Thursday afternoon with decisions reached on several key points.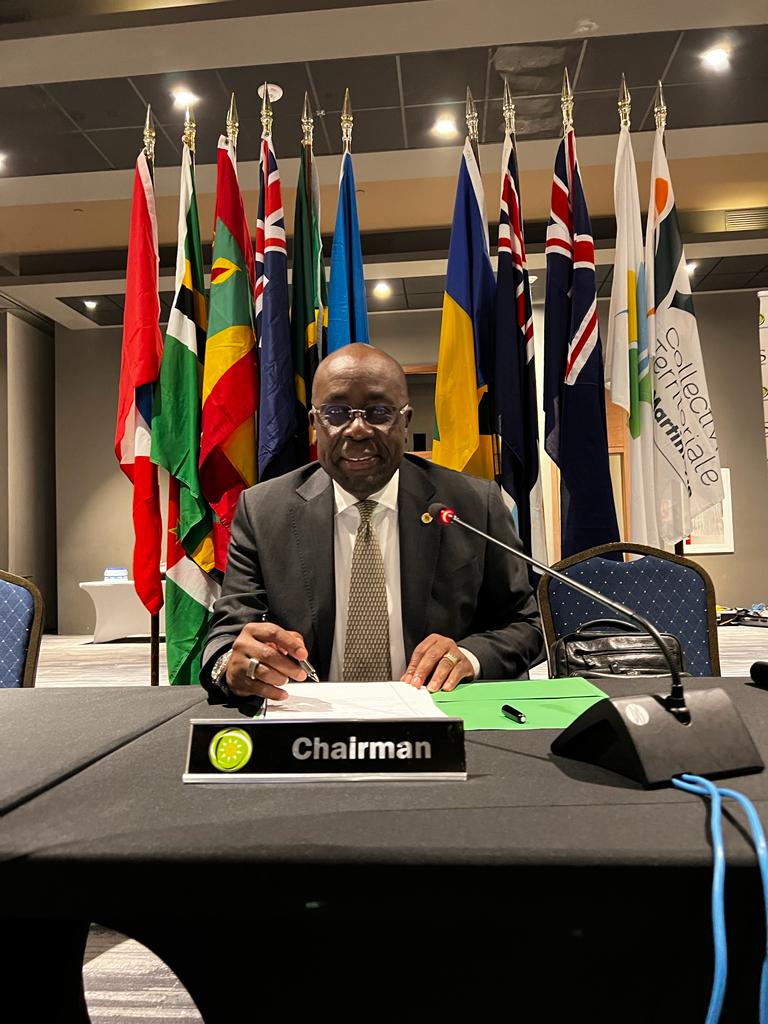 Inside (28-09): Minister of Foreign Affairs, Immigration and Trade, E. P Chet Greene assumes chairmanship of the OECS Council of Ministers of Trade