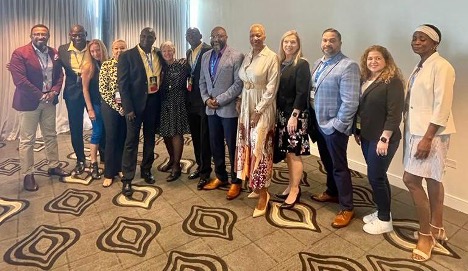 Tourism officials upbeat after attending regional cruise tourism conference
An Antigua and Barbuda delegation recently returned from attending the Florida Caribbean Cruise Tourism Association's (FCCA) 28th annual conference in the Dominican Republic and has reported that they are "very upbeat" about the country's prospects for the upcoming cruise tourism season.
Chief Executive Officer (CEO) of the Antigua and Barbuda Tourism Authority (ABTA), Colin James, led the delegation which was composed of stakeholders from the Ministry of Tourism, The Antigua and Barbuda Port Authority, and executive members of the St. Johns Taxi Association to the 11th – 14th October conference.
"The delegation participated in high-level meetings with major players in the cruise tourism industry.
"Cruise tourism is a fast-growing component of our tourism industry.
"Since we're now experiencing a strong recovery after being at a standstill due to the impact of the COVID-19 pandemic, the staging of the conference is timely," James said.
"The upcoming winter season promises to be record-breaking for cruise arrivals; some 182,120 passengers from 108 calls are expected during the last quarter of this year with January 2023 projected to be our busiest month for the season with 79 calls and 135,810 passengers to St. Johns," he continued.
The team held meetings with executives representing over ten cruise lines as well as FCCA executives.
The Ministry of Tourism and Investment, with the ABTA, was also able to facilitate the attendance of St. Johns Taxi Association president, Patrick Bennet and members Leroy Baptiste, and Sean Beazer in its meetings with the leadership of the FCCA.
The meetings were frank and productive, incorporating a presentation from the Taxi Association that resulted in the FCCA entertaining the possibility of an increase in transportation charges which have been static for the last 17 years.
As the dynamics of travel platforms continues to evolve, the discussions with each cruise line varied.
Hundreds of Antiguans and Barbudans continue to benefit from the career opportunities that Royal Caribbean and MSC cruise lines offer.
The delegation was also pleased with the announcement that Virgin Voyages, whose deployment to the region this year was delayed due to logistical challenges, will make its inaugural call to Antigua and Barbuda in 2023.
Cruise lines are now required to comply with a mandate to reduce their carbon footprint. This requirement will affect the ports included on their itineraries.
The delegation shared the news that Antigua and Barbuda has now commenced installation of 6 Liquified Natural Gas (LNG) generators which will be deployed in April 2023. Princess Cruise Lines advised they will also be launching the 4,300 passenger Sun Princess, its first LNG vessel, which will call on St. Johns in 2023.
With the stringent U.S. policies concerning emissions, Antigua and Barbuda anticipates that more USA-based ships will make the island a port of call.