The Leeward Islands Cricket Board (LICB) honored the Rt. Hon. Basil Morgan of Montserrat on celebrating 60 years of unbroken service to the sport of cricket.
The 73-year-old have served cricket, locally, regionally and internationally in various roles including scorer, player, administrator, selector, manager, statistician and international umpire.
The man from the Emerald isle started his career as a scorer at the tender age of 13 and over time integrated into the other facets of the sport. Morgan made his debut as a player in 1965 for Montserrat as an off-spinner facing some of the great cricketers in the region like Sir, Vivian Richards, Sir Andy Roberts, Veron Edwards Sr., Enoch Lewis to name a few.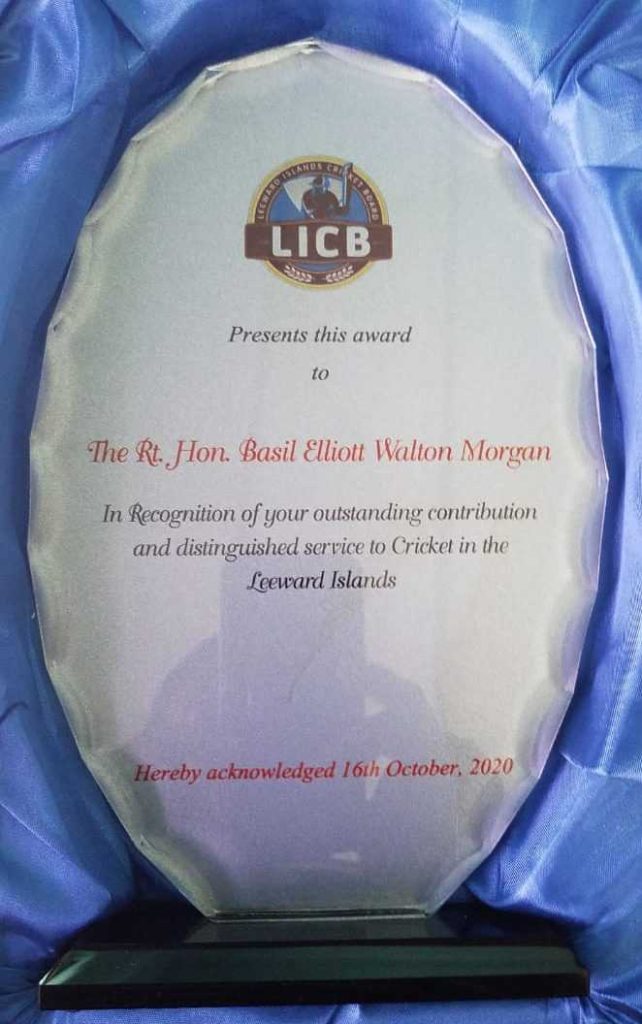 The former statistician received an award earlier this year from the World Statistician Body for his outstanding achievement of over 50 years as a Statistician. He is also the recipient of the Order of Excellence from the government of Montserrat in 2015.
Cricket West Indies (CWI) President Ricky Skerritt said Basil Morgan is one of the regional umpires who pioneered a pathway upward to international level for other West Indian umpires to follow.
President of the Leeward Island Cricket Board (LICB) Enoch Lewis said Basil Morgan extensive contribution to Montserrat, Leeward Islands and West Indies Cricket over the past sixty years represents absolute commitment, dedication and loyalty for the sport of cricket.