PM endorses move to elevate King Short Shirt to National Hero
On Sunday at during a church service organised to celebrate the 80th birthday of Sir McLean "King Short Shirt" Emmanuel, Prime Minister Gaston Browne voiced his support for the move to elevate the legendary calypsonian to the status of National Hero.
According to Prime Minister Browne, King Short Shirt's iconic contribution to the Antigua and Barbuda's economy, music, culture and it's political liberation, all through his music, is well deserving of the country's top honour.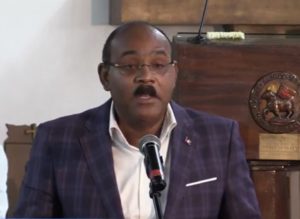 "I do believe that Sir McLean is deserving of the title of National Hero. In fact I'm aware that an application was made to the National Honours Committee and we hope that they will do justice to the King and elevate him to the status of National Hero," said Prime Minister Browne.
This sentiment was also expressed during the service by another former national calypso monarch, Glenmore "King Progress" Sheppard.
"I wish to nominate Sir McLean Emmanuel, King Short Shirt, Antigua's premier cultural icon, to be elevated to the status of National Hero.
"Sir McLean's amazing list of achievements; his impressive body of work; the impact his songs have had on the growth and development of Antigua and Barbuda; the fight carried on behalf of the poor, oppressed and downtrodden; his invaluable contribution to Carnival; the hero worship that is evident whenever he performs, [all these] make him highly deserving of this honour," King Progress posited.
The service in celebration of Sir McLean's 80th birthday, which he commemorates today, took place yesterday at the Spring Gardens Moravian Church.
In attendance were Governor General, H. E. Sir Rodney Williams, ministers of government, members of Parliament, members of Antigua and Barbuda's large calypso fraternity, friends, family and other well wishers.
Later today, the government will hand over the title to the land at Halcyon Beach where Sir McLean Emmanuel has operated Shorty's Beach Bar for almost five decades.