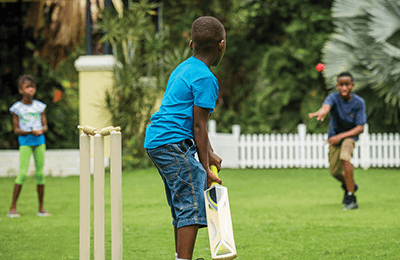 Children should never be involved in politics
Coolidge police responded to a call placed from the New Winthorpes playing field last week in connection with a cricket match which was being played in which the attendees were not complying with COVID-19 protocols.
Two males officers and a female officer who responded to the call observed children following social distancing requirements along with a small gathering of adults who were also observing the necessary protocols. The bowlers present were bowling to one stump, which does not constitute game play.
After a short conversation with the coaches in charge of the session with the children, reports indicated that all present left the grounds dismayed that someone would have called the police out of what could only be interpreted as mischief and dishonesty.
A parent of one of the children present called into Pointe FM to express concern over the fact that someone called the police on children who were training, knowing well that there was no mass gathering or match being played.
Another parent who did not wish to be named suggested the malicious call may have been politically motivated as a recent photograph that was widely circulated on Facebook showed a politician and a former West Indies player on a backhoe at the New Winthorpes. The caption of the picture indicating that both persons were working together to install nets at the facility.
It's also a well known fact that factions in the community are displeased that the Skepple family has been making improvements to the pitch at the New Winthorpes field.
The disgruntled parents made it clear that politics has no place in sports or activities which affect children. They added that it was a disgrace that someone would call the police on children who were only trying to improve their game especially as the government has given permission for athletes to train under the condition that they observe COVID-19 protocols.