Antigua and Barbuda and the United Arab Emirates have committed to
strengthening the bonds of friendship that already exist between the two nations.
This, was among matters discussed at what has been described as 'a productive
dialogue' between Education and Culture Minister, Daryll Matthew and Minister
of Culture and Youth of the United Arab Emirates, His Excellency Salem bin
Khalid Al Qassimi.
This high-level meeting took place at the margins of the 42nd session of the
General Conference of UNESCO, where both ministers used the opportunity to
reinforce the strong bonds of friendship and cooperation that exist between the two
nations.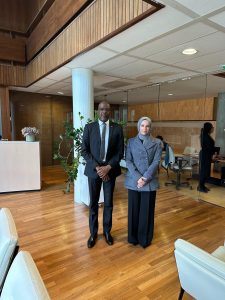 They emphasized the shared commitment to international collaboration and
underscored their nations' dedication to global causes. His Excellency Sheikh
Salem bin Khalid Al Qassimi expressed heartfelt gratitude to Antigua and Barbuda
for their unwavering support during the previous COP (Conference of the Parties)
and their forthcoming participation in COP28, which is scheduled to be hosted in
Dubai.
Minister Matthew reciprocated by congratulating the United Arab Emirates for its
relentless efforts in combatting climate change and for championing UNESCO
inclusion in the COP agenda. Furthermore, Minister Matthew reiterated the
steadfast commitment of Antigua and Barbuda to assisting the success of COP28,
offering reassurance that the UAE can rely on their full support to ensure the
conference's triumph.
His Excellency Sheikh Salem bin Khalid Al Qassimi, in turn, expressed his
nation's unwavering dedication to preserving natural heritage sites under
UNESCO's guardianship, aligning with one of the key priorities articulated by
Minister Matthew in his policy speech. In a symbolic gesture of cultural exchange,
His Excellency Sheikh Salem bin Khalid Al Qassimi extended an official invitation
to Minister Daryll S. Matthew to attend the upcoming UNESCO World
Conference on Culture and Arts Education taking place in Abu Dhabi in February
2024.