The Antigua and Barbuda Hotels and Tourism Association (ABHTA) will host a
Hospitality Job Fair on Wednesday, September 27, 2023, in celebration of World
Tourism Day. The event will take at the Multipurpose and Exhibition Centre at
Perry Bay.
In a media release, the ABHTA said the event is in alignment with the United
Nations focus on investing in people for World Tourism Day 2023, thereby
recognizing the critical importance of human capital in the tourism industry.
According to the United Nations, the global tourism workforce will require
millions of hospitality graduates annually until 2030, with an additional 800,000
jobs per year requiring specific vocational training.
Chairman of the ABHTA, Craig Marshall, emphasizes the significance of this
initiative, stating, "What better way to celebrate World Tourism Day than by
opening up the industry to potential employees throughout Antigua and Barbuda.
This year's event will feature twenty-six (26) businesses eager to fill positions
across various sectors of their operations. We are also delighted to welcome our
partners from the Antigua and Barbuda Tourism Authority and the Antigua and
Barbuda Hospitality Training Institute, who will be showcasing their services."
Job seekers attending the fair will have the opportunity to explore a wide range of
positions, including Culinary, Food and Beverage, Maintenance, Housekeeping,
Tour Guides, Administrative Team, Watersports, Tour Guides, and Adjunct
Lecturers.
To streamline the process, job seekers are strongly encouraged to pre-register to
secure an interview time slot. Pre-registration can be completed by contacting the
ABHTA office at 462.0374/4928, by visiting our
website www.antiguahotels.org or by using the following
link https://antiguahotels.org/abhta-hospitality-job-fair/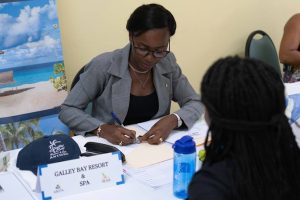 Participating companies include:
1. Ana on the Beach Restaurant and Art Gallery
2. Antigua and Barbuda Hospitality Training Institute
3. Antigua Village "A Condominium Beach Resort"
4. Antigua Yacht Club Marina Resort
5. Awesome Development Ventures
6. Barbuda Cottages/Uncle Roddy's Bar and Restaurant
7. Blue Waters Resort and Spa
8. Carlisle Bay Resort
9. Cocobay Resort
10. Colombian Emeralds Antigua
11. Galley Bay Resort and Spa
12. Goddard Catering Group (Antigua) Ltd.
13. Hermitage Bay Resort
14. Hodges Bay Resort and Spa
15. Jolly Beach Antigua
16. Pineapple Beach Club
17. Royalton Antigua
18. Sandra's Beach Shop Bar and Grill
19. Siboney Beach Club
20. South Point Hotel Inc.
21. St. James's Club and Villas
22. Tamarind Hills Antigua
23. The Escape at Nonsuch Bay Resort
24. The Inn at English Harbour
25. The Rendezvous Company Ltd.
26. The Verandah Resort and Spa