The Antigua & Barbuda Hotels and Tourism Association (ABHTA) has announced
the launch of a thirteen-week project, leading up to the celebration of Tourism
Week 2023, commencing on December 3 rd through to December 9 th .
Under the theme, "Unveiling Hospitality Professionals," this initiative will
embark on a journey that will focus the spotlight on the heart of the hospitality
industry on its often-unsung heroes—the dedicated individuals who infuse life and
vitality into the sector.
"Throughout this profound journey of spotlighting hospitality employees, we will
immerse ourselves in their diverse backgrounds, personal triumphs, and
unwavering pursuit of excellence. Whether their roots are traced back to humble
beginnings or they have honed their craft through years of dedication, these
hospitality professionals have committed themselves to the industry's growth, a
media release from the ABHTA noted.
In its inaugural feature, the ABHTA focuses the spotlight on the Deputy General
Manager at Mill Reef Club, Michelle Seaforth, whose journey into the world of
hospitality began at a tender age, inspired by her mother's role as the Rooms
Division Manager at Jolly Beach Resort. According to Seaforth, her mother's vivid
narratives about guests, events, and team interactions always captivated her
imagination. Reflecting on her early experiences, she recalls, "My occasional visits
to Jolly Beach further sparked my interest in the industry. The warm and
welcoming atmosphere, from the reception desk's greetings to the chef's live
omelet station, left a lasting impression on me. It was brimming with joy and
energy. During those visits, I realized that I wanted to be a part of the hospitality
industry."
Seaforth described her path to her current position as Deputy General Manager at
Mill Reef Club as marked by resilience and the principle of "stoop to conquer,"
instilled by her father. She embarked on her career as a janitor after completing her
studies at Johnson & Wales University in Miami. The concept of climbing the
ladder from the ground up resonated with Michelle as she put her degree in Travel
Tourism and Hospitality Management with a minor in Food and Beverage to
practical use.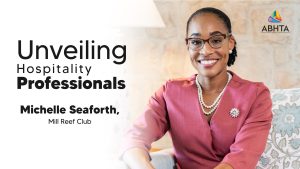 Today, Michelle oversees six departments—Reception, Housekeeping,
Reservations, Beach and Gardens, Maintenance, and House Rentals—in her most
senior role to date.
Chairman of the ABHTA, Craig Marshall, emphasized the importance of sharing
stories like Seaforth's to inspire the next generation of Antiguan and Barbudan
talent, aspiring to reach the highest echelons of the hospitality industry. He
expressed the ABHTA's commitment to launching this project with the hope that
primary and secondary students will gain insights into the diverse facets of the
hospitality sector.