Team Antigua Barbuda 69F: Road to victory
Nationals Rocco Falcone and Junella King, along with their Italian teammate Filipo Amonti, stunned in Pensacola, Florida earlier this month when they captured the first leg of the 69F tournament.
Coming up against teams from Canada, the United States of America, Norway and other top contenders in the prestigious hydrofoil race, Antigua and Barbuda's sailors were among the underdogs.
Out of nowhere, the crew who had never sailed together before, shocked everyone when they secured the win.
Platinum sponsors of Team Antigua Barbuda, the Ministry of Tourism, the luxury Tuscan brand Locman and the Antigua Yacht Club, are working to welcome the 69F regatta here in 2023.
On Tuesday at a reception held in their honour to celebrate their magnificent achievement, Rocco and Junella told Pointe Xpress while the experience was exhilarating, it was also exceedingly physically challenging.
As they had never worked together in the past, Rocco, a multiple National Sports Man of the Year nominee, explained that quick thinking and effective communication were critical in overcoming temperatures as low as 7 degrees and winds between 7 – 13 knots.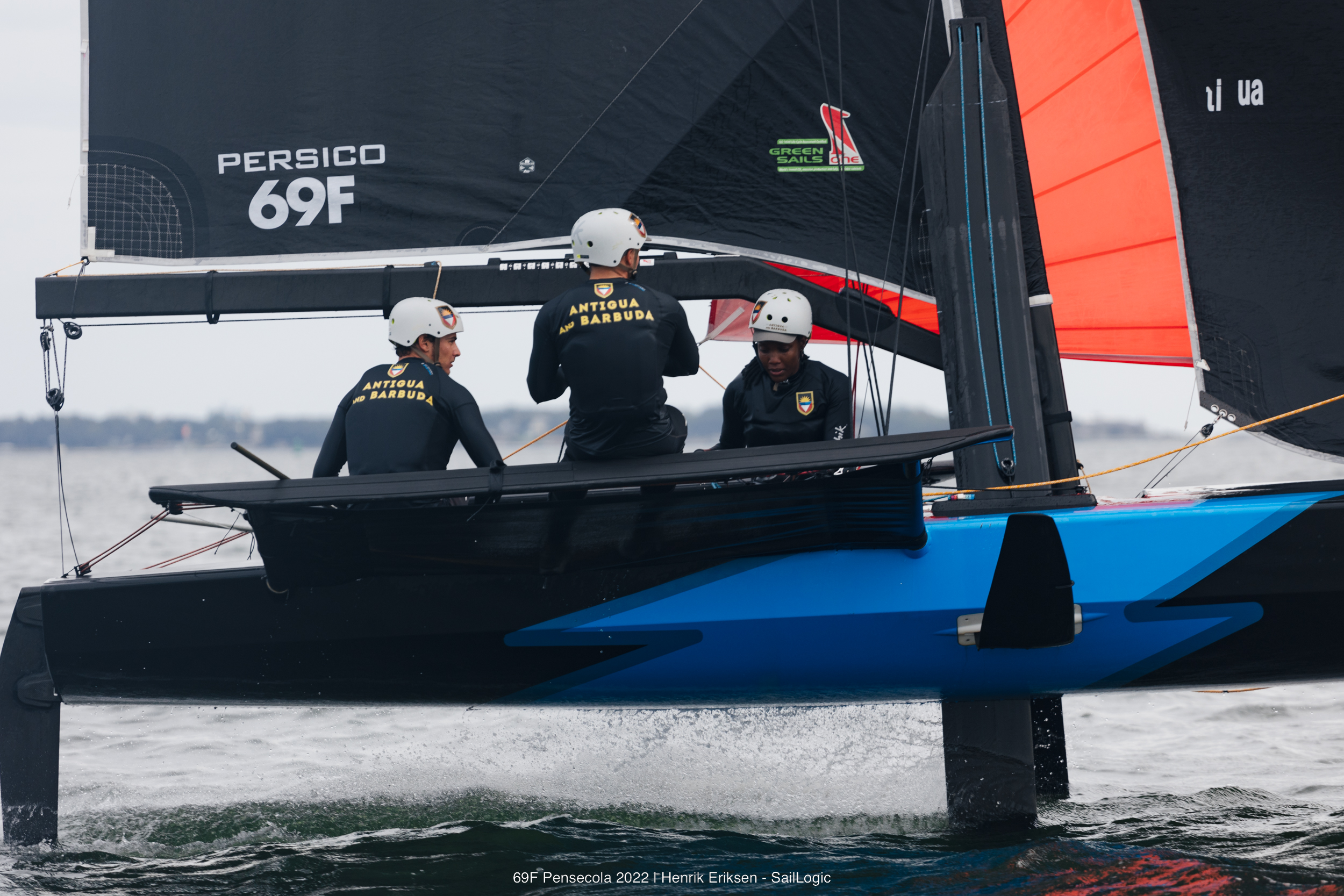 "It was actually our first time ever sailing together as a team on the boat so to come out and go into the deep end and win our first regatta was honestly an amazing achievement and we honestly couldn't believe," Rocco said.
"It's a very physical sport," Junella continued, "because [the boat] is very 'tippy' as well so you gotta just be able to move quickly."
Rocco also explained that in a foil race, because of its rapid pace, everyone aboard has a key role to play which also requires significant mental focus.
"Everyone's role kinda ties in together and everyone has to be communicating really well, everything has to be working at a certain time.
"Junella's role really involves pulling down the boards…she's involved in pulling up the big sail for when we go down wind and that involves a lot of power too.
"Once we're all working together, there's also the main sail trimmer, which is Fillipo, he's involved with trimming in the sails and then I'm involved with driving and communicating with the guys on our next move.
"So, you know, it's a lot of things going on, especially at that speed," Rocco explained.
He also emphasised that a great deal of emphasis is placed on the collective safety of the team. This, he said, means at times while the aim is of course to win, that priority must shift to first ensuring personal safety and the safety of the entire crew.
This first victory has buoyed their spirits as they continue to train and participate in other 69F regattas around the world over the next two years.
"Luckily, we've had the backing of some great sponsors," Rocco said. "The Ministry of Tourism of Antigua and Barbuda, they've helped us a lot with sponsorship and so has Locman and Antigua Yacht Club Marina, and so because of that, we're now able to do all the other events. We're able to go training in Europe, and we're actually going to have our own boat over there so we'll be moving there for the summer, we'll be training with some teams…tryna just build up for the final.
"To do that we need to win some more events, and once we're in the final, hopefully we're at our peak performance, we'll be comfortable with the boat [because] we have great coaches. Thanks to the support that we have, we're able to do this, so thank you to everyone!"
Rocco also extended sincere appreciation to the Antiguan and Barbudan public who have cheered them on.
On behalf of the team, Junella called on the public to continue their support of Team Antigua Barbuda 69F as their journey continues.
One way to actively keep track of their adventures, she said, is on social media.
"We do have our Instagram page, TeamAntiguaBarbuda_69F, so you can keep up with us on that."
"We look forward to representing Antigua, representing our sponsors and representing ourselves too. We're going to try to hopefully get up to the next level; after this maybe go for the Olympics or the Americas' Cup. This is a great opportunity for all of us," Rocco concluded.