There is no doubt that Sir Rupert 'King Swallow' Philo is one of our greatest sons! He will forever be remembered as a cultural icon, consummate performer and a most creative writer having given us more than fifty years of beautiful music. Those of us who grew up in the 70s and 80s can, without effort, join in with any King Swallow tune. His music is part of our DNA; it tells our history, provides the basis for excellent social commentary and fodder for our political consciousness.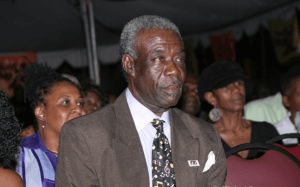 Swallow never truly retired, even though he had reached fine wine maturity and was no longer producing new music, his wide portfolio of timeless classics remained relevant and ready for any performance. He always set any performance he was a part of on fire. Impeccable attire, an eye catching presence and superb stage presentation were all synonymous with Swallow, the Man from the East! Of the Antgiuan triumvirate of calypsonians, King Swallow had the most impactful regional presence. One only has to look at the range of tributes which have pour in since the sad news of his passing to understand the impact his music had on the region and the world. His reach was extensive, his tours continued well into his 'ripe age' as he belted out his classics. He was as loved and revered as a person, for his contributions to calypso and his live performances.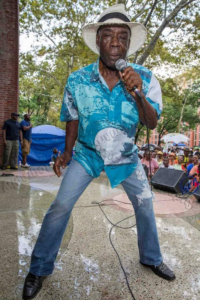 King Swallow made his formal entry into the competitive calypso in 1962 in his native Antigua and Barbuda and placed second runner-up. He then won Calypso King four times in 1973, 1977, 1978, 1985 and five Road March titles in 1972, 1973, 1975, 1983 and 1984. Among his more popular tunes we remember 'Don't Stop the Party', 'Fire In The Back Seat', 'Party in Space', 'Subway Jam', 'Satan Coming Down', 'I Want To Wine On Something' and 'Soca Kingdom'. His more resounding social and political commentaries include his most popular, hit, 'Man to Man' along with 'Rise Antigua Rise', 'We Marching', Dawn of a New Day' and 'One Love One Destiny' and the unforgettable 'If You Can't Run The Country, Give It To Labour Party'. He was also the manager and eventual owner of the oldest calypso tent in the country, the Calypso Pepper Pot which was dubbed the University of Calypso.
For these many contributions, Sir Rupert 'King Swallow' Philo was awarded the Order of Merit (Gold) and the Grand Cross of Princely Heritage. We celebrate the life and times of King Swallow Rupert Philo! Set the galaxy on fire until we meet again!