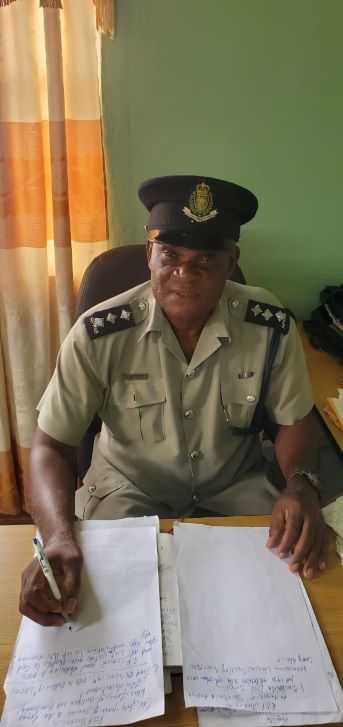 ASP Glenroy Weekes: 40 years of sterling service to the RPFAB
Working for 40 years with one organisation does not come without its challenges, but Assistant Superintendent of Police (ASP), Glenroy Weekes, says he is privileged to be working as a member of the Royal Police Force of Antigua and Barbuda (RPFAB).
Weekes has been attached to the Fire Department since joining the RPFAB on October 19, 1980, on the invitation of the Government of Antigua and Barbuda.
The St. Vincent native recounted that there was a void in the force in the past as many Antiguans left the force to find work in the revitalised tourism sector.
18-years-old Weekes, who had just graduated college where he  studies in building construction and joinery, jumped at the opportunity to come to Antigua where he could pursue his passion for serving others.
His training to become a police officer began in Antigua at the Police Training School, which is now known as the Sir Wright George Police Academy. One month into his training, however, he asked to be transferred to the Fire Department.
The fire officer said his decision was motivated by his love for the work of the fire department and its mandate to help people.
"It's (fire fighting) more of reaching out to help people who are in distress and that is what I wanted to do-to help people. I wanted to be able to have an impact on people's lives and so that is why I wanted to do that (become a fireman). On the other side- with the regular (police officer) it would have been more taking people to court and arresting persons rather than reaching out to them," Weekes said.
His first post was at the V. C. Bird International Airport where he served for seven years. He then returned to the Police Training School in 1987 as an instructor where he imparted his knowledge to many officers just joining the service, including former Commissioner of Police, Wendel Robinson.
After four years, it was time to move on, but instead of returning to active fire duty, Weekes was assigned to work as an Emergency Medical Technician (EMT), where he would remain for four years. This period, he explained, was fraught with challenges.
"This was when the Holberton Hospital was running the ambulance service. I received training in CPR and the Fire Department was asked to man the ambulance service which I did and I was one of the persons responsible for the ambulance service for four years.
"That was a big challenge again too; it was getting to people, homes, bringing them to the hospital, tending to them, looking after them and that is down my line that I wanted to help," Weeks said cheerfully.
The ASP said his 40 years as a member of the Fire Department had been interesting and fulfilling as he was able to complete his mandate of helping people.
Over the years, he has helped many people in distress including those who experienced the devastation of losing everything in a fire. On one rare occasion, he was called upon to help a loved one who had befallen tragedy.
Weekes recounted an incident in which he was called to assist two officers who were trying to calm a mentally ill  woman who had set her home ablaze. When help arrived, she threatened the two armed officers with a knife. Weekes was at his Fort Road home preparing for a shift when a villager sought him out to give aid to the officers.
He freely admitted that he was frightened for his life as the woman was armed and not of a sound mind, however, he managed to gain her trust and talk her down. This allowed authorities to safely transport her to the mental hospital where she could receive treatment.
"She kinda gave in a little bit until I was able to get up close to her and to take away the knife from her and get her into the police vehicle to take her to get her medication. I then rushed into the fire and threw out all the clothes out of the house, which she had set on fire and sealed the home. That was something that I think my life was threatened because she could have stabbed me because I did not have anything to protect myself. I had to tell her don't focus on them, focus on me," Weekes said.
He also shared one of his most cherished moments as a member of the Royal Police Force of Antigua and Barbuda. Weekes said it had been an honour to bear the coffin of the late Father of the Nation, national hero, Sir Vere Cornwall Bird Sr, in 1999, to his final place of rest. He said this is a memory which he will always cherish asSir Vere touched his life when he first came to Antigua as a young recruit. Being able to bear his remains over a four day period, according to Weekes, was a small way in which he could return Sir Vere's kindness to him.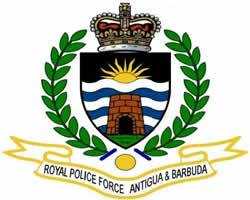 Weekes recalled that Sir Vere visited the Police Training School and Coolidge Fire Station welcomed him to Antigua and Barbuda.
"For that I have been very grateful and he said to me if you have any problem at all don't be afraid to come to me. For a prime minister to take such an interest, because I did not consider myself to be that important for a prime minister to take time out of his busy schedule to come and just to see me on training and to talk to me, and to give me an encouraging word was something that I was grateful for," the ASP said.  
Weekes is also an avid sportsman who  represented the Fire Department in cricket and football. During his very first week in Antigua, he was selected to play for the police football team.
His talent in cricket took him to England in 1996 and 2004, Barbados in 1998 and South Africa in 2007.
Always one to share his talent and experience, Weekes also participated in First Class and Parish League cricket and as a member of private clubs.
"I tend to want to branch out and help the weaker teams and so I joined the Swetes Cricket Team. I played for Swetes Cricket Team for over 10 years. I left the Swetes Cricket Team and went and played for Freetown Cricket Team. I helped them to win two championships. Presently I play with Urlings Cricket Team. So I want to share my talent with the community. I also play football in Liberta," Weeks revealed.  
ASP Weekes now manages the affairs of the All Saints Fire Station and has also worked at St. John's Fire Station. In fact, Weekes has been stationed at every outpost in the country with the exception of Barbuda.
Weekes said it was always his plan to retire after giving 50 years of service to the force. He added that there is no better or more rewarding job than being a firefighter for persons who have a passion to serve others, help those who are in distress and make a tangible difference in the lives of all they come into contact with.