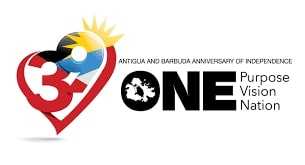 Antigua and Barbuda celebrates
The nation of Antigua and Barbuda celebrated its 39th Anniversary of Independence this year against the backdrop of the coronavirus pandemic.
Many of the activities normally associated with the annual independence celebrations were scaled down because of the pandemic as stringent safety regulations limited public gatherings. The devastating effect of the pandemic on the local economy also necessitated a less grandiose observance.  
During the ceremonial parade held on Sunday afternoon at the Sir Vivian Richards Stadium, awards were presented to several individuals and one organisation in recognition of their outstanding contributions to the nation.
This year, Health Minister, Molwyn Joseph, was bestowed the title Knight Grand Cross, The Most Distinguished Order of the Nation (KGCN) for distinguished and outstanding contribution in the field of politics and development. Henceforth, he will be known as Sir Molwyn Joseph.
Also receiving top honour was Supervisor of Elections, Lorna Simon, who was bestowed the title Dame Commander of The Most Distinguished Order of the Nation (DCN). She will now be known as Dame Lorna Simon.
The other awardees were Winston Kenneth Nehemiah Gomes of the Antigua Port Authority; sports official, Clancy Mack; sports official, Keith Frederick, and the nation's oldest steel orchestra, The Hellsgate Steel Orchestra which was accepted by Veron Henry. 
Awards were also presented COVID-19 Frontline Workers who were recognised in a separate category. The awardees were Anderson Joseph of the Customs Division, Nurse Soria Dupie-Winston, Corporal Timothy Philip Jr., Avery Henry of the Airport Authority, Wesley Simon of the Immigration Department and Lt. Carla Patreace Thomas-Browne of the Antigua Defense Force.
Prime Minister Gaston Browne, offered three cheers to the nation and its people and congratulations to the awardees for their outstanding contributions to Antigua and Barbuda's development. 
Referring to the COVID-19 pandemic, Browne said while the country is at war with 'an invisible enemy', the nation nor its people will not be intimidated. He continued that Antiguans and Barbudans are firm in their resolve to overcome this enemy. Browne appealed, however, for everyone to observe the health protocols intended to control the spread of the virus.
Having recognised Her Majesty Queen Elizabeth II, Governor General, Sir Rodney Williams also offered congratulations to the 2020 awardees noting that their contribution ought to serve as an example for others to follow.