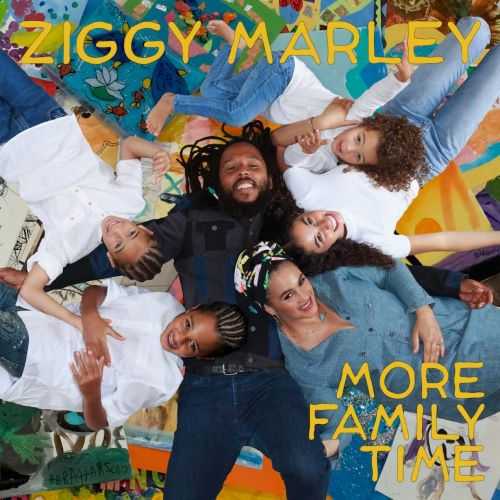 Ziggy Marley releases new family oriented album
Iconic, Grammy award winning reggae artist, Ziggy Marley  has released his new album, 'More Family Time' amidst the challenges facing the entertainment industry. It is an album designed to bring families together during the COVID-19 pandemic.  The songs are fun and whimsical but are also designed to impart knowledge.
On the album, Marley, the father of three, brings his family together with vocals provided by his children Judah, Gideon, Abraham and Isaiah. The family dog, Romeo also makes an appearance. Several of his industry friends including Ben Harper, Alanis Morrisette, Sheryl Crow, Busta Rhymes, Jamie Lee Curtis, Angelique Kidjo, Tom Morello and Lisa Loeb are also featured on the album.  His brother, Stephen Marley, is also a part of the production.
Among the songs are 'Play In The Sky' with Ben Harper, in which he sings about the importance of playing outdoors, 'My Dog Romeo' which features the barking of his dog, 'The Garden Song of Miracles' with his brother Stephen in which they teach children the magic of watching plants grow and 'Move Your Body', which features vocals from his four-year-old son, Isaiah. 
 "A lot of the songs bring some of my ting dem from childhood. When I was growing up, manners was the most important thing. It was my Grand Aunty who really kinda take care of us when my parents were away and it was about manners, manners a get you through, manners; so 'Please, Excuse Me, Thank You' is really coming from my childhood but really teaching my children now. It's about the present and the past," he said.
This is Marley's second children's album. His first, 'Family Time' received the 2009 Grammy Award for Best Children's Album and he also took home a Daytime Emmy Award for 'I Love You Too', which shares its title with his 2012 debut children's book, a multicultural picture collection based on the beloved song, which explores a child's relationship with parents, nature and the unstoppable force of love.
Marley, who has been planting potatoes, beans and strawberries during the pandemic, said his song, 'The Garden Song of Miracles' was about slowing down and appreciating the magic of nature.
"The things about me inspire me. The dog inspire me. Nature, levity, these things are inspirational to me. Even the 'Garden Song Of Miracles' is about planting and seeing a tree grow or a fruit tree or a tomato, but that is a miracle in itself. If we just can realise what a thing that is, it is such a miracle. We have to stop being so jaded and stop being so not open-minded and start appreciate things. We are very busy, we need to take some time and appreciate some little things," he said.
Marley said he had a lot of fun working on the album and it gave him an emotional respite from everything that has been happening in the world.
"It really brought some joy when things were sad for us, for me, it kinda give me something to lift my spirits. During the pandemic and Black Lives Matter and George Floyd protests in America where I am, there was a lot of energy so it just come like a breath of fresh air, it give me a breather. We need to do that sometimes, it can't be always tension, it is good to take a breather," he said.
While he was tapping into his inner child for the album, Marley, the eldest son of Reggae Icon Bob Marley, also curated a photo book, 'Portrait of a Legend' in honour of what would have been his father's 75th birthday. It is the first book authorised by the Bob Marley Foundation. He said the photos show the late legend in his natural state to help fans get a better understanding of his life off the stage.
"What it did for me, it brought me back. I remember the time, nostalgia, is a melancholy vibe," he said of watching his father in his youth.
Asked about his fondest memory with his father, Marley said the most impactful was going to Zimbabwe with his brother Stephen and his father for that country's independence. He was 11 at the time. 
A portion of proceeds from 'More Family Time' will benefit Ziggy's 501(c)3 URGE, which supports the education, social development and overall well being of the Chepstow Primary School and the One Love Youth Camp, both in Jamaica.