UPP blasted for anti-foreigner bigotry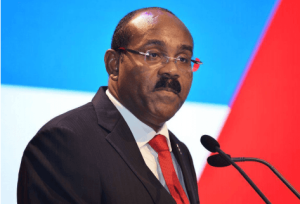 Prime Minister Gaston Browne has torn into persons who he believes appear bent on stirring up xenophobia and racism against Chinese and Caricom nationals who dwell in Antigua and Barbuda. Speaking on Saturday on Pointe FM, Browne said many of those promoting this anti-foreigner sentiment are doing so under the cloak of nationalism or
African consciousness.
"I am proud to say that Antigua and Barbuda is more representative of Caricom than any other country in Caricom. That is a strength and I welcome all the Caricom nationals to this country. They have been here from time immemorial, especially when you look from within the OECS sub-region with the Dominicans and Montserratians and so on, and they are here to stay, that is the reality. They have been contributing towards the upliftment of this country, contributing to consumption, contributing to our taxes. They are well integrated into our families."
Addressing the inconsistency and hypocrisy of those fomenting this bigotry, Browne said, "The irony of it is that the people who are cursing have grandparents who come from the different Caricom islands. I hear one lady, Mary John for example, a well known member of the UPP, cursing Caricom nationals, but to the best of my knowledge, her mother is from
Dominica. You get that type of ridiculous behavior that they have Caricom roots but they're cursing Caricom nationals. How can we sustain that type of parochial politics in which we are trying to tear down each other?" Prime Minister Browne also castigated those who are criticising Antigua and Barbuda's relationship with the People's Republic of China (PRC),
especially the small tokens of appreciation that this country has shown to the PRC for its many costly gifts and concessions.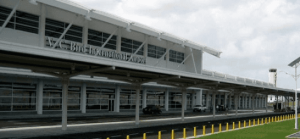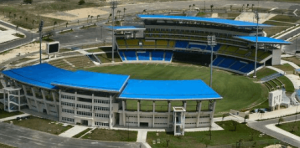 "China, within the last 15 years, would have invested about a billion or maybe over a billion dollars in this county," he said. Providing the actual breakdown, he identified the PRC's investment of over $200 million into the new V. C. Bird International Airport terminal. He continued, "They are now investing $250 million to do the cargo port. That's $500 million [or] half a billion. Then, they also invested, under the UPP, the $150 million for the Wadadli Power Plant. That's $650 million. Let us not forget that Chinese money built the Multipurpose Centre. That's taking you up now to about $700 million.
They gave the Sir Viv Richards Stadium as a gift, $70 million. They have in the pipe now a housing grant of $100 million to build properties at Booby Alley, in Bolans, in Jennings, in Barbuda, Knuckle Block which is a $40 million project. We got that as a gift from the  People's Republic of China. The very university buildings down at Five Islands, again a gift from the People's Republic of China. You're talking about $60 million. "The clinics. They've just completed two polyclinics; one in Glanvilles, one in Villa, at a cost of about $40 million.
In Barbuda, when Barbuda was decimated by Irma, they were among the first responders. They gave $5.4 million. All the solar street lights you see in this country, it's China who made them available to the government and people of Antigua and Barbuda. The Defense Force has gotten support almost on a yearly basis from the People's Republic of China. We've gotten agricultural grants."
Browne denounced detractors who he said were, "…making a fuss because the Chinese are building an embassy here and we gave them five acres of land as a gift. So after they have given us nearly $400 million dollars in grants, and we give them five acres of land probably valued at one million dollars, if you say $5 a square foot, and there is a big hue and cry about it?" The prime minister also refuted persistent opposition allegations that his government sold 1,600 acres of land to Yida. According to Browne, the Chinese investor, "…purchased the land from the Stanford receivership estate. We have not sold one square inch of land to Yida." UPP blasted for anti-foreigner bigotry Prime Minister Gaston Browne even in opposition, and long before becoming the country's head of government, Gaston Browne consistently opposed the rise of xenophobia in Antigua and Barbuda and castigated the then UPP government for encouraging it.
In the past as chairman and deputy political leader of the now incumbent Antigua and Barbuda Labour Party (ABLP) administration, Browne warned of the anti-foreigner sentiment that was being stoked following the close results of the March 2009 general elections which the UPP blamed on immigrant communities in the country that had supposedly betrayed or turned against it. Browne pointed out then, that the same immigrant community which the UPP targeted for post-election reprisals in the form of amended voting eligibility, had voted overwhelmingly in favour of the UPP when it won the 2004 elections. He said then that any abandonment of the UPP by huge sections of its 2004 support base had to do with the Baldwin Spencer-led administration's poor performance
in office and overall incompetence.