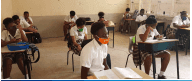 Having returned to school on Monday, students are familiarizing themselves with the new system of face-to face learning complemented with a virtual classroom environment. This is one of the changes to take place as people continue to adjust to the "new normal" and as  the government establishes mechanisms to reduce the spread of the coronavirus.
Despite these measures, the Principal of the Ottos Comprehensive School, Foster Roberts, is concerned that the system of blended learning will put at risk students who cannot afford the tools required to make the most of the new learning environment at a disadvantage.
"The reality is that most of our children who are coming to this school are coming from  homes where there are challenges. All of our children may not have access to a device. Those who have access may not have the internet. This now creates a challenge for the
teacher. How do I reach all the children that I have in my form so that at the end of the day when I am doing my assessment I can fairly assess every child? That is going to be the challenge," he indicated.
Roberts said while teachers are committed to rising to the challenge, parents must also play their part. "We can't achieve anything without the support of the parents, especially where online learning is concerned. If the parents do not lend support to children with the online learning; see to it that they do the work that is submitted by the teacher,  then all of our efforts would be in vain," he warned.
As the ability to return to a traditional learning environment is no longer possible, Roberts underscored the importance of parents ensuring that their children's time is properly  utilized.