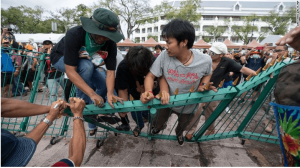 Pro-democracy protesters in Thailand have confronted a motorcade carrying the King as it passed through a rally in Bangkok. The protesters, who were pushed back by ranks of police, raised the three-finger salute that has become a symbol of the protest movement. They have called for curbs on the king's powers and for the resignation of the Prime Minister. The protests on Wednesday follow months of escalating tension in the country.
The king, who spends most of his time abroad, has returned from Germany for several weeks, travelled in a car alongside the Queen through a crowd of peaceful protesters, who chanted and raised their hands in the three-finger salute. The gesture is though to have been inspired by the Hunger games films in which it is used as a symbol of unity and defiance.
The royal couple was on their way to a Buddhist ceremony, where demonstrations had took place earlier in the day, before protesters moved on towards Government House.