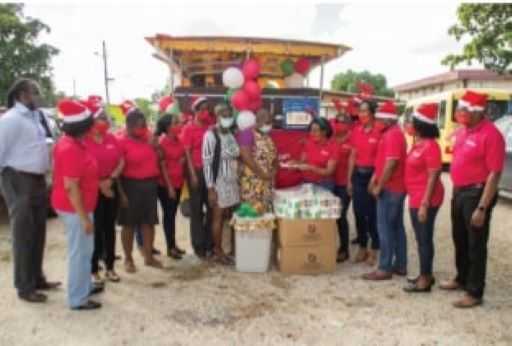 Taking sharing to another level
The spirit of giving that forms part of the Christmas season took a new turn when the management and staff of CIBC FirstCaribbean introduced a Caribbean version of Santa and his sleigh with their 'Christmas Caravan'.   
The Caravan bearing members of staff, personal care items, dried goods and cash made stops at the Clarevue Psychiatric Hospital, Her Majesty's Prison, Fiennes Institute, Salvation Army's Sunshine Home for Girls and the Ministry of Social Transformation on behalf of the Boy's Training School. Twelve families in communities including Villa, John Hughes, All Saints, Parham and Freetown also received donations.
"We honestly believe that without giving there is no true Christmas. This year with the hosting of our traditional staff party being impossible due to Covid-19 protocols, we decided to use that money instead to support those in need. Our staff also got involved and made personal donations of food stuff, clothing and toys. It was a wonderful and rewarding experience for all of us who rode the Christmas Caravan," said Ladesa James-Williams, the bank's Country Head.
Earlier this month the bank donated $10,000 to the Salvation Army, Lions Club and the Red Cross to assist in the spreading of Christmas cheer.