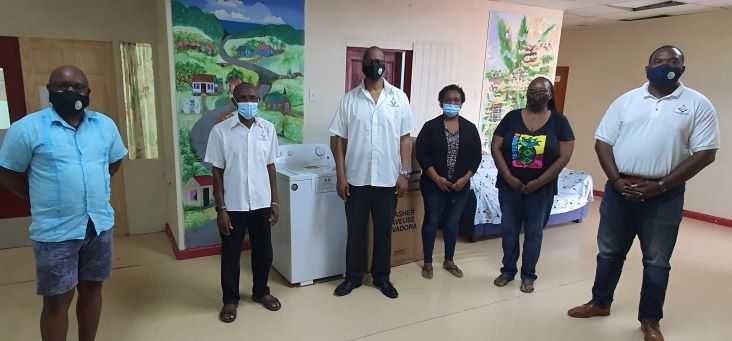 St. John's Lodge donates washer to The Care Project
St. John's Lodge No 492 E.R presented a washing machine to The Care Project. The presentation was made by Worshipful Master, Lt. Col. Edward H Croft, accompanied by his Senior Warden, Edward G. Joseph, Treasurer, Athlyn Davis, and Charity Steward, Joel Darroux.  
The Care Project was represented by Melinda Simon, the Administrative Assistant and Aleathea M. Peters the institution's professional laundry worker. 
Simon expressed gratitude on behalf of the Ministry of Health and residents of The Care Project for the timely donation. She said the machine will be very useful to her and the organisation which works optimally with two washers. 
Lieutenant Colonel Croft expressed his pleasure at being able to assist The Care Project in meeting one of its urgent needs. He also expressed his hope that the institution's residents will feel a sense of relief in the knowledge that they are cared for by both the public and the members of St. John's Lodge No 492 E.R. 
This is the fourth occasion this year in which the lodge has provided relief to those in need.