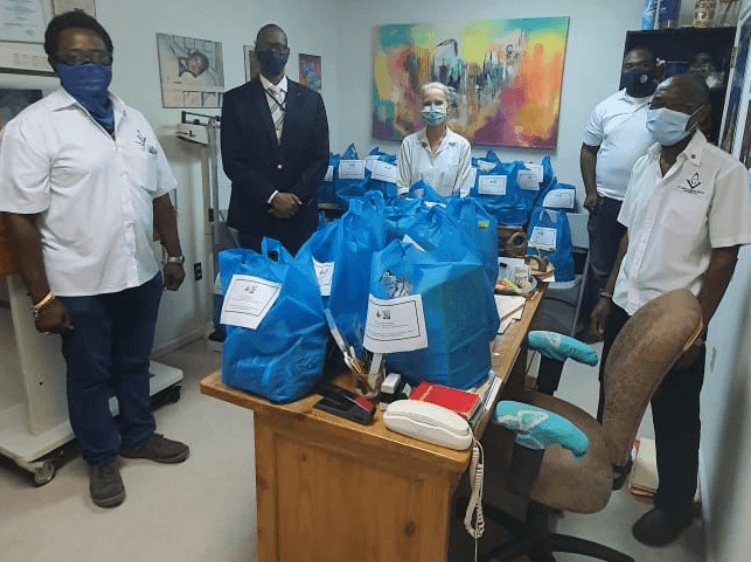 St. John's Lodge donates to Sickle Cell Association
The St. John's Lodge No. 492 E.R. presented thirty-six food packages to the Antigua and Barbuda Sickle Cell Association. The presentation was made by Worshipful Master, Lt. Col. Edward H. Croft, accompanied by his wardens, Edward Joseph and Ato Kentish and Charity Steward, Joel Darroux. The Sickle Cell Association was  represented by Dr. Edda Hadeed, Pediatrician and President of the Antigua and Barbuda Sickle Cell Association, and other members who expressed thanks. Dr. Hadeed remarked on the timeliness of the donation since several of its members are now in rather unfortunate circumstances due to the ongoing COVID-19 pandemic.
She further expressed that the recipients will be appreciative of the packages as in addition to physical aid, it is important, especially in trying times to have the knowledge that  someone cares for their wellbeing. The presentation took place at Dr. Edda Hadeed's office at the Gambles Medical Center. Mindful of the quote by Horace Mann, "Doing nothing for others is the undoing of ourselves", Lieutenant Colonel Edward Croft expressed the hope that the donation will make a positive impact on the lives of persons who may have lost
their jobs or have otherwise found themselves in need. He offered Dr. Hadeed the  assurance that the lodge will always be open to helping the association and its members in times of need.