The Soup Kitchen, one of the island's premier social protection initiatives for the vulnerable on the streets of St. John's has received a major boost in its meals outreach program.
On Wednesday the Student Government Association, at the American University of Antigua (AUA), donated $15,000USD (EC$40,000) to The Soup Kitchen to aid in the development and continuity of the daily feeding program.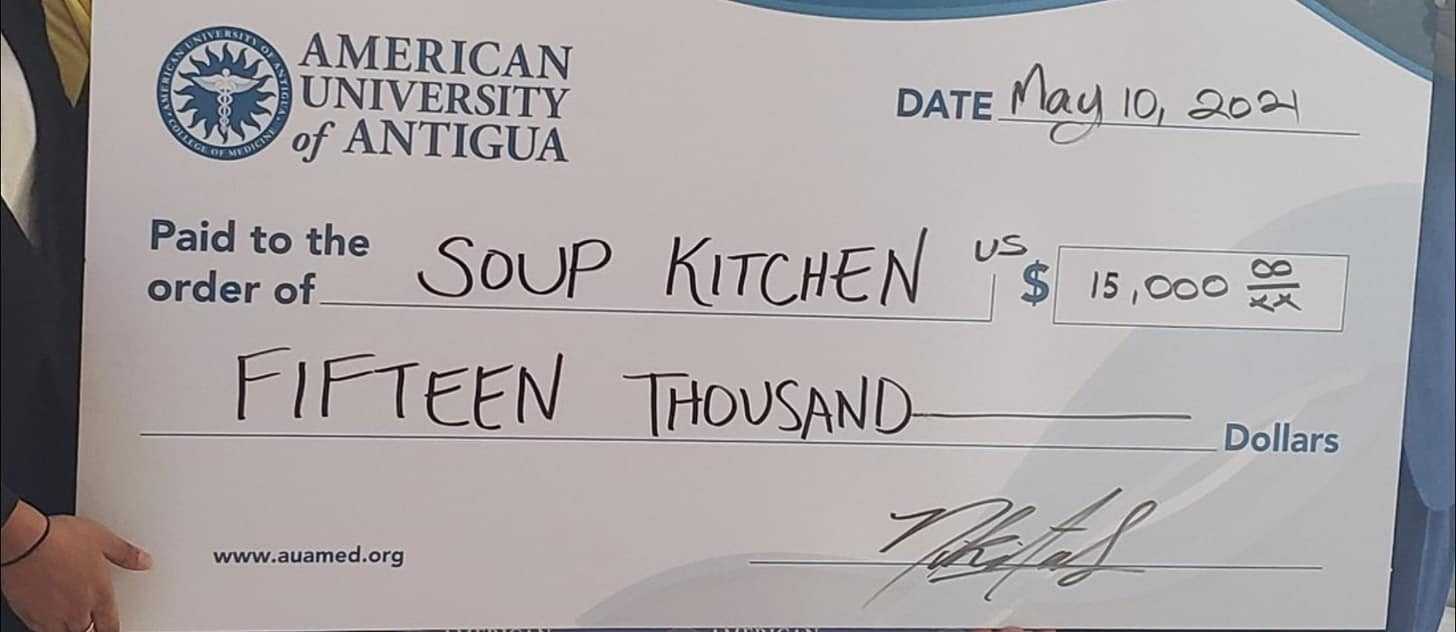 Sergeant Veldon Ragguette, the founder of The Soup Kitchen located on lower All Saints Road explained that the program provides free, wholesome meals for approximately 65 persons a day. These persons are some of the country's most vulnerable, living on the streets or in impoverished living conditions.
"Each one, can feed one", is a mantra The Soup Kitchen is said to lives by, guided with the idea that ending hunger is possible with the help of everyone, Ragguette noted.
The donation was held in a brief ceremony at the AUA campus.
According to Ragguette, "We say a major thank you to Nikita Shibalsan, President of Student Government Association, AUA, who presented the cheque to us. The care demonstrated by the student government is a good example of the future leaders they will become. Gratitude is also expressed to Vernon Salmon, Vice-President, Dean of Affairs of AUA, Dara George-John, and Sharon Brusch for helping to facilitate this. The Soup Kitchen, notwithstanding the harsh economic conditions the pandemic has brought, will continue to provide free, wholesome meals to those most in need. The Soup Kitchen wishes to express profound gratitude to the students, staff, and administration of AUA for making this timely and impressive contribution to the feeding program."
The founder went on to state, "This grand donation reminds me of the quote from Melody Beattie which states, Gratitude unlocks the fullness of life. It turns what we have into enough, and more. It turns denial into acceptance, chaos to order, confusion to clarity. It can turn a meal into a feast, a house into a home, a stranger into a friend."
"The Soup Kitchen is eternally grateful for all the support, well wishes, and kind gestures AUA, citizens, and private sector businesses, have shown to the initiative," Ragguette continued.
The Soup Kitchen serves lunch 7 days a week, Sunday to Sunday, offering members of the public the opportunity to play their part in civic responsibility.