The Copper and Lumber Historic Inn set off on a unique adventure ten years ago to delight the discriminating palettes of Antiguans and Barbudans everywhere. 
Seafood Friday assembled some of the country's best chefs and cooks to create scrumptious dishes in an atmosphere famous for its impeccable scenery and stunning landscape. 
Ten years ago, it was unimaginable the reach and lasting impact the event would eventually have on so many Antiguans and Barbudans, at home and abroad. 
Friday night in Antigua is incomplete without a visit to Dockyard to enjoy the company of family and friends under the stars over a sumptuous spread of delicious seafood.  
All this came to a halt with the pandemic as Seafood Friday did not escape its far reaching impact. 
The effects were felt everywhere, even in the yachting community that remained resilient despite the considerable odds, and as the English Harbour community slowly springs back to life, Seafood Friday is returning to the island's calendar of activities.  
The steps to its return are cautious for now as the kitchen staff return to familiar surroundings, ready to prepare tasty creations once again. 
Despite the demand and the tempting prospect of utilising available space, the management of the Copper and Lumber Historic Inn  took the decision to continue its takeout only operation in play for the time being between 4pm and 8pm. 
"That's only for now. We know from experience how it can get at Seafood Friday. We also know that many persons have been asking for its return. We do not want for a moment to be disrespectful to the well thought out protocols that are proving to help prevent transmission of Covid 19, especially in a community that is so critical to the yachting industry," stated Andy Liburd, who has been providing marketing support to the event for several years. 
Seafood Friday takes place under the mango tree along the Nelson's Dockyard driveway.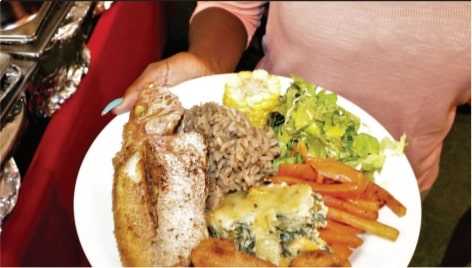 The menu is filled with the traditional favourites commingled with new additions that will satisfy guests' longing for the tasty dishes that made Seafood Friday so popular.
The management of Copper and Lumber Historic Inn  expressed delight over the fact that they have been able to mobilise and revive the event despite the pandemic. 
The organisers have also assured their guests that no efforts have been spared in implementing measures to ensure their safety. 
Other measures have also been implemented to ensure that the Dockyard is well protected against the transmission of COVID-1919. 
Restrictions aside, Seafood Friday is going nowhere. It has been around for ten years, which is impressive given the short life of other similar events. 
Seafood Friday at the Copper and Lumber Historic Inn is an incredible testimony, not only to the diligence and hard work of the National Park staff, but also to the love and support that it has received from its many adoring fans.