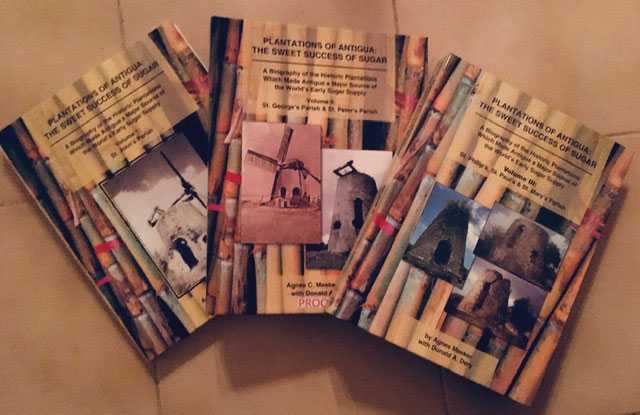 Plantations of Antigua series is completed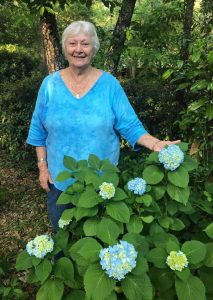 Agnes Meeker has completed a labour of love and a 25 year project investment with the publishing of Plantations of Antigua Volume III, the final book in the series.  
The series presents  a brief history of more than 200 plantations that once dotted this island.   For Ms. Meeker the series represents part of her fierce love for Antigua and Barbuda.   
"This island Antigua, my love and my birthright, being a 6th generation Antiguan born on my mother's side," said Meeker describing her passion for her country.  
Having resided abroad for a period, Agnes returned home 25 years ago and became fascinated with the island's 110 sugar mills.  
"There was a terrible drought at the time making moving through the bush a lot easier than today, when the island is as green as I have ever seen it.   I then set out to find out the story behind each mill, but then, why stop there when there were twice as many millsoriginally, most of which were damaged during the 1834 earthquake and were never rebuilt due to the advent of steam.   It was exciting and exhilarating, walking in the steps of people past, finding and documenting their stories," said in an interview with PointeXpress.
After 20 years of collecting information on every estate she could find, she built on a map at the Museum that Desmond Nicholson devised based on a CVE mill study in 1997. To make the publication manageable, Ms. Meeker then compiled according to parish.  
Volume I covers St. John's, Volume II, St. George's and St. Peter's and Volume III St. Philip's, St. Paul's and St. Mary's.  
The books are very detailed include information pertaining to each estate from vast and varied sources.  Data on the owners of each estate, stories of slavery, ghosts stories, personal memories, statistics, maps, prints and photographs are included.  
According to Agnes, "When you think of it, nearly every place name on Antigua stems from these estates, as do many of our surnames.  Nowhere has this ever been recorded in one place, so this became my objective."
Agnes paid tribute to the invaluable support from Don Dery who helped to unravel all the information and steered her through the publishing maze. 
She also leaned on the work of other authors including To Shoot Hard Labour by Sir Keithlyn Smith and Fernando Smith, the former who was a dear friend. Vere Oliver's History of the Island of Antigua and others were also invaluable to her research.
 The internet was another important source.  In the last five years, a lot of information started to surface on the internet, and this continues to grow. In this regard, Ms. Meeker said genealogical sites were helpful. Using the internet as a resource, she has been able to assist many visitors to Antigua whom the Museum referred to her who were trying to research their ancestry.
Agnes views her publication as merely one side of the complex history of Antigua and Barbuda.
"There are always two, three or more sides to a story. Hopefully this work will help flesh out a bygone era.  Antigua's history is extremely rich and diversified and I firmly believe that more of this history needs to be taught in the schools.   We also need to be preserving the windmills which are crumbling annually and which we are losing rapidly, like everything else historical on this island to include the forts."
Agnes proudly added, "Antigua is so beautiful, as many of you who are now into hiking during these Covid times, are discovering.  As you walk, imagine all those who have trod this soil before us, all with tales to tell.   It's fascinating.   It gives me goosebumps."
Plantations of Antigua Volume III is available on Amazon and a limited number of copies are also available at the Museum of Antigua and Barbuda.