Londel Benjamin gives back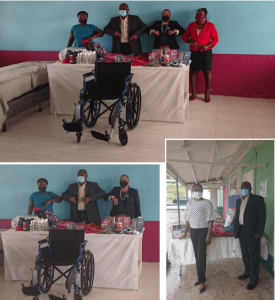 As the nation's schools reopened this week in the
heart of the coronavirus pandemic, a number of institutions and individuals have been the recipients
of an outpouring of donations. One such person who
took a decision to support those facing extreme difficulty is the Member of Parliament for St John's Rural West, Londel Benjamin. Benjamin made a significant donation of school and other supplies to the Greenbay Primary and Five Islands Primary schools on Tuesday.. In addition to school supplies, a wheel chair and beds to furnish a sick bay were donated. Benjamin said he was happy to be able to give back to the community and to make a contribution to the children, many of whom may have been impacted negatively by the pandemic.