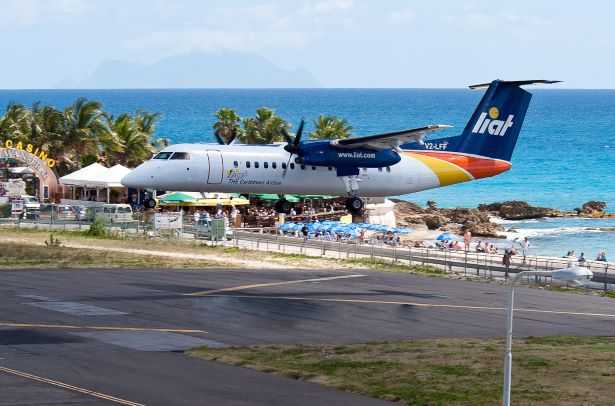 LIAT severance payments being processed
By Shelton Daniel 
LIAT is not being revived to become the "national" airline of Antigua and Barbuda and that is not the intended message of its scheduled relaunch on November 1st, Independence Day.
Prime Minister Gaston Browne provided this clarification on Saturday on his weekly radio programme. According to Browne, thee resumption of LIAT flights on Independence Day is not a statement that the airline is to become an exclusive national asset.
He further discloses that Dominica, who will share LIAT's relaunch route, has indicated a desire to renew its status as a shareholder in the Antigua-headquartered airline.
"That's not the intent here. LIAT is still poised to remain as the regional air carrier, and we continue to have discussions with other governments to participate in the new LIAT. We have a firm commitment from Dominica to participate and a few other governments have shown an interest. I may not necessarily want to name them at this point, but as far as Dominica is concerned, I had a call from Prime Minister Skerrit up to a few days ago. On his own volition he picked up the phone and he called me and he said, 'Now that LIAT is going to resume flights, I just want you to know that Dominica is definitely, firmly interested in taking an equity stake in LIAT', and we have assured him that we will facilitate them," Prime Minister Browne stated.
Following LIAT's relaunch on November 1st, the airline will begin to expand its services.
The prime minister said this will include, "…several other OECS islands and Barbados and eventually the schedule will be expanded to include all the countries in the CARICOM bubble as they reopen their borders." 
He further disclosed that, after six months of border closures across the region due to the pandemic, all LIAT staff who had been laid off were severed in mid-October. 
"They were sent their severance letters, and the administrator will be rehiring a number of former employees based on need to make sure that this time around LIAT is right-sized."
Regarding LIAT's rehiring process, Browne said, "Clearly the administrator will be looking at their past performance, because one of the ideas is to change the culture of LIAT and have a high performing institution with highly performing employees who will go beyond the call of duty to make it a success."
He pointed out, "At this vulnerable stage, employees will be called upon to make certain sacrifices; not, for example, demanding the full commercial pay that they think they're worth and to use unions and so on to undermine the efficacy of the service in order to demand certain increases. We want people who are cooperative. The administrator will be fair to employees, but they have to understand that in the circumstances they cannot command premium pay."

Had LIAT not fallen into such a precarious position, he continued, the cooperation required for its revival would probably not have been forthcoming from contentious employees and their bargaining agents. 
"The unions would have found every reason to oppose any such reductions, notwithstanding that most of these people are home and the airline would not have been positioned to pay them. LIAT has not had that culture of cooperation in the past and many of the employees – especially a certain cadre – have held the institution hostage, and we want to make sure that going forward, there is no possibility for that type of hostage-taking, but to have staff that are totally committed so as to ensure the viability and survivability of LIAT. There is no other way. All the excesses of the past have to come to an end."
The prime minister said he is aware of plans by persons associated with the previous "sick culture" within LIAT to undermine and disrupt the restructuring plans. He insisted, however, that the airline will be "right-sized and operated as a commercial entity designed to turn a profit; not operate as a social institution for any cadre or any government or any country."
Asked about severance payments to former employees to whom it is now due, Browne said his government will honor up to fifty percent of claims for staff "whose nationality is predominantly Antiguan and Barbudan. The fact that [one] would have worked here [in Antigua] for over seven years and became a citizen of Antigua and Barbuda does not make your dominant nationality Antiguan and Barbudan."
He explained that his administration's severance settlement will comprise "a combination of cash, land and government bonds". 
It was also revealed that Administrator Cleveland Seaforth "is negotiating with a number of private entities to purchase shares in LIAT. On the basis that any one of those is successful, then clearly some capital would become available to make additional severance payments."
As things stand now, he noted, "The only firm commitment for payment of severance is from the Government of Antigua and Barbuda, however, I am told that at least two member countries have severance protection plans in place and LIAT employees in those countries contributed to those funds. If that is the case, it means they should be able to draw on those funds and get some level of settlement for their unpaid severance."
Browne said he could not place a figure on the severance payments that are dueas the exact computations are being processed by Mr. Seaforth.