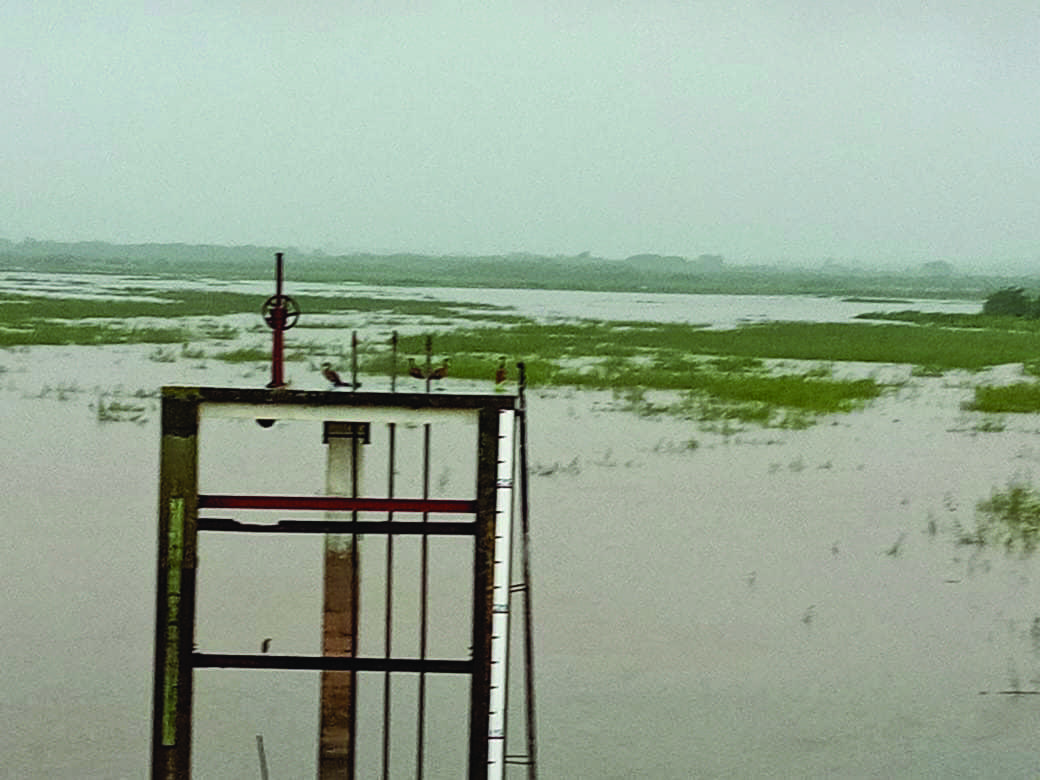 Antigua inundated by historic rainfall, Barbuda spared
Over 48 hours of uninterrupted rainfall has deluged Antigua leaving many low lying areas flooded. Many people have been forced to move into shelters or take up temporary residence with family and friends.
The rain began early Monday and fell steadily throughout the day and into the night with hardly any pause. By Monday afternoon, several areas reported flooding. The National Office of Disaster Services (NODS) sprang into action, coordinating rescue operations for families threatened by the rising water in areas such as West Palm Beach in Bolans.
NODS Director, Philmore Mullin, said several families were placed in shelters or advised to stay with family because of flooding. 
There are no reports of loss of life of serious injuries as a result of the rainfall. 
There is likely to be an assessment of the damage to infrastructure and private property, which is expected to be significant, over the next few days. 
Minister responsible for NODS, Dean Jonas, was actively engaged in efforts to remove the homeless off the streets and to shelters where they would be safe, dry and cared for. 
"We spent much time rounding up the homeless and to take food to them ensuring that they are well fed. We were concerned about feeding them over the past two days, but for today as well," he told PointeXpress.
Jonas has also conducted a preliminary survey of his constituency, St. George, to determine the extent of the damage suffered by residents. He reported that there was flooding in Potters on the main road which extended into the village. Pigotts, and particularly an area called Flashes, also sustained significant damage. 
Barnes Hill and most of New Winthorpes were spared as they are high land areas. Roads in the lowland areas of New Winthorpes did, however, suffer damage.
The road entering Pigotts  along the Government Motor Pool was made impassable by water and motorists were forced to use the Paynters entrance near the Sunnyside School to enter the village.
Prime Minister Gaston Browne toured his constituency as well on Tuesday to assess the damage and offer assistance to those in need. He also traveled around the island to get a first hand view of the impact of the heavy rain on families, communities and infrastructure.
The St. Mary's South MP, Samantha Marshall, addressed the flooding in West Palm Beach, which is notorious for flooding in times of heavy rainfall. Five families had to be relocated for their safety because of the flood waters.
The representative for St. John City East, Melford Nicholas said several families in his constituency had to be moved to safety because of rising flood waters. Sunrise Pasture and Penny Lane were among the areas identified. 
One major source of flooding in that area is a gutter that runs throughout most of the constituency. While work has been done to clear blockages in some parts of the gutter, it has not yet been completed.
In St. John's Rural South, MP Daryll Matthew busily attended to constituents who were impacted by the two days of torrential rain.
It is expected that the impact of the downpour will take priority during today's Cabinet meeting.
The Met Office reported that the rain was the result of moisture and instability associated with an area of disturbed weather. Further reports indicate that rainfall in some areas exceeded 15 inches. 
Meterologist, Lorne Salmon, said the system has a 10 percent chance of developing into a tropical cyclone. Although it is moving away from the area, Salmon said he expects that the system will produce further rainfall today of between 2 and 3 inches.
He reported that Five Islands recorded 15 inches of rain, the Botanical Gardens and St. John's, 13 inches, Bolans and surrounding areas 10 inches, the airport, just over 7 inches and Cobbs Cross 1. 56 inches. 
The figures for the eastern part of the island were not immediately available, but Salmon said it would be less than that which was experienced in Five Islands as that much rain would have filled the Potworks Dam to capacity. 
The dam has not yet reached its capacity.
According to Salmon, the last time the country was inundated by this much rainfall was when Hurricane Lenny made landfall in 1999 when areas reported as much as 24 inches of rain.
Barbuda experienced very little rainfall and life there continued as normal.