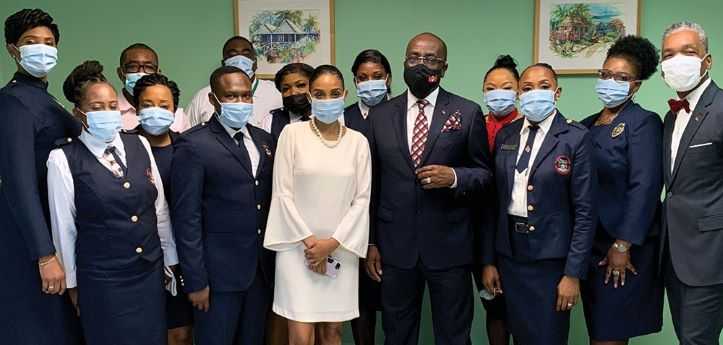 Immigration Chief projects improvements into 2021
Chief Immigration Officer, Katrina Yearwood, is projecting that her department will establish itself as the leading immigration department in the Caribbean as it continues to grow and improve its services.
Speaking at the opening of the department's new headquarters in the Sealy Building on the Sir George Walter Highway, Yearwood said this is achievable as Antigua and Barbuda is both a travel hub in the Caribbean with a unique demographic.
"There is no other Caribbean country like Antigua and Barbuda in terms of our demographics. We will also have first will equipment at our borders in terms of E-gate, Kiosks, and other equipment that will enable us to better detect fraudulent documents. Additionally, we are moving to have seamless movements through our ports of entry," she stated.
Since she assumed the office three years ago, Yearwood said her focus has been on improving staff competences through intense training and introducing incentive programmes to improve morale.
During her tenure, the department added three new departments: Intel which focuses on gathering information on persons visiting the country; the Rover Unit which removes persons deemed unsuitable to remain in the country and the NDR programme which will oversee the Nomad Residency programme.
Yearwood also wants to expand the use of technology to improve the overall efficiency of the department. This includes moving to a paperless operation over time. 
It is also her intention to collaborate with international agencies to provide additional training for her staff in several key areas.
Also addressing the gathering was minister responsible for Immigration, E.P Chet Greene, who underscored the key role of the department which is to provide a service. He admitted to chiding the department in the past over reports of subpar service, but on this occasion offered compliments to the department in recognition of their noticeable improvement.
"I wish all to be aware of the premium that we place on the service that we provide to the public. It is the raison d'etre of our very existence," he declared.
He recalled that the department was transitioned from the police to a civilian operation in 1998 by former Prime Minister Sir Lester Bird in the hope of providing a 'softer' touch to the country as its reputation as a tourism destination grew.
This, Greene said, has been achieved.