Health Minister reiterates COVID-19 warnings
Against the backdrop of two new cases of COVID-19, Health Minister, Molwyn Joseph, has
slammed the reckless conduct of those citizens and residents whose actions go against the government's efforts to reduce the spread of the coronavirus. According to Joseph, the
circumstances under which at least one person allegedly contracted the virus is cause for grave concern.
Despite the established protocols, authorities are asserting that some people are flouting the regulations and placing the country at risk. Health minister Joseph says if this  continues, there will be dire consequences. "We are beginning to see people in this country who feel they have a right to hold their private parties and not observing any of the protocols. Private parties without masks, people standing elbow to elbow. Yet when they exhibit that reckless conduct they want to come back into society, a society where we have children going to school with a potential to affect our innocent children," he emphasized.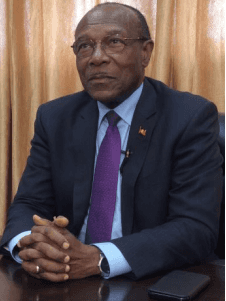 The minister stressed the importance of observing the protocols in an effort to contain the virus. Joseph is of the opinion that persons have become complacent and fears that their recklessness can fuel the spread of COVID-19. In support of his view he pointed to The Bahamas, Trinidad and Tobago, Guyana and Jamaica where the virus is spiking, in part, because of the attitude of the people. If Antigua and Barbuda is not careful and fails to learn from the lessons playing out in neighbouring Caribbean nations, contends Joseph, the country could find itself in a similar situation.
"This is no time to let our guard down," he cautioned. In a recent appearance before the Parliament, Joseph said the government is doing all in its power to curb the spread of COVID-19, but added that the actions of some people could demolish this plan. Minister Molwyn Joseph is concerned that a combination of COVID-19, the flu and dengue fever seasons could exacerbate the strain on health officials. With this in mind, everyone, Joseph says, must take personal responsibility.
"The last incident of a positive case involves the conduct of an individual who should know better. This morning (Thursday) it was reported to me that the people in contact tracing had to put over 100 persons in quarantine because of one person who decided to be irresponsible to go to a party without a mask. Where it is now, it appears that one other person was infected and there's a potential of another person getting infected. So we can
have three persons infected from the behavior of one individual. Additionally, we may have to place about 120 persons in quarantine as well as to conduct tests of many of these persons," he declared.