Governor General to spearhead Caribbean Wellness Day
Governor General, Sir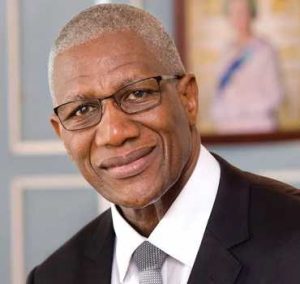 Rodney Williams, will
spearhead activities to mark the observance of Caribbean Wellness Day 2020 tomorrow. In addition to Education and the preservation of History and Heritage, Health and Wellness are  among the platforms to which Sir Rodney and Lady Williams have pledged their support.
Last month, Sir Rodney launched the 'Don't Quit,
Get Fit' programme with the support of the Halo Foundation. This initiative is designed to  sensitize the nation to the importance of leading
healthy lifestyles through regular exercise,  proper dietary habits and the awareness of the factors that predispose to non- communicable diseases. The staff of the Office of the Governor General are active  participants in the 'Don't Quit, Get Fit' and Caribbean Wellness Day activities.
Meanwhile, Governor General Williams has commended national sports icons Sir Richie Richardson and Team Island Girls and the Non-Communicable Disease (NCD) Unit in the Ministry of Health and other groups who are engaged in the activities to mark the annual occasion. Caribbean Wellness Day was introduced by CARICOM in 2007 in response to the high prevalence of non-communicable diseases such as hypertension, diabetes mellitus and obesity in the Caribbean.