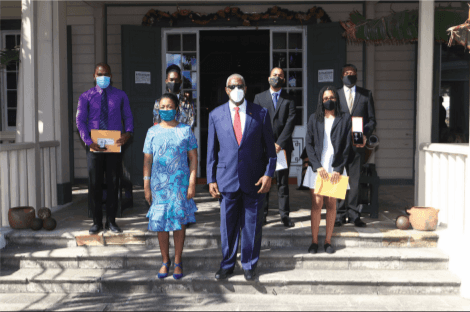 Government House and Halo Foundation recoginise outstanding community contributions
Several people were awarded for outstanding community work by Government House and the Halo Foundation, a charity associated with Governor General Sir Rodney Williams and Lady Williams.
In a ceremony held at Government House on Thursday, Sir Rodney said both he and   Lady Williams were happy to celebrate outstanding service and those who give of their time, effort and resources, above and beyond the call of duty. 
"This philosophy propelled us to establish two awards entitled the Governor General's Faithful and Meritorious Service and the Halo Hero Humanitarian awards," he stated.
Sir Rodney explained that the insignia in the Faithful and Meritorious Service Awards includes a cross, at the highest level as well as three medals designated as gold, silver and bronze, ranked in that order. 
"These insignia are presented to deserving individuals who have demonstrated their invaluable service to humanity, whether through charitable works, the transformation of a sector, organisation or community, faithful service or meritorious acts all done to the benefit of Antigua and Barbuda," he explained.
This year, two people were presented with the Faithful and Meritorious Service Award. Teacher, poet, author and playwright, the late Mrs. Mary Quinn, known as 'The Grand Dame of Poetry' was singled out for her legacy, focus and positive influence on her family. In recognition of these, she was awarded at the highest rank, the Service Cross.
The second recipient was George Yeager, a former homeowner at the Mill Reef Club, who quietly, but generously, supported development in Antigua and Barbuda. He was recognised for his philanthropic services to Antigua and Barbuda.  
Five people received Halo Hero Humanitarian Awards – Kaynas Phillips, Michael Joseph, Cuthbert Forbes Jr., Brent Scotland and Asha Graham. 
"These young people are blazing the trail and providing leadership in the area of humanitarian service. As more mature adults, we have a duty to encourage them on their path to help others. Today, awardees we applaud your efforts but remind you that you should not grow weary in well doing," Sir Rodney remarked.   
The Halo Hero Humanitarian Awards are presented by the Halo Foundation Inc. which is the parent  organisation for the over thirty charities listed under their Excellences' Patronage. 
These awards recognise outstanding charitable work among children and youth at the primary, secondary and tertiary levels. Recipients are identified based on their acts of bravery and/or kindness in their educational institutions or their communities.