Support is 'Overboard' for one young Antiguan artist who less than a week ago released a music video for a new soca song.
The song, perfectly titled 'Overboard,' has already garnered 27,000 views on YouTube.
The artist, a former Junior Calypso King and Junior Soca Monarch runner up, Tyreke 'King Vicious' Lewis said that "these are the best numbers that I have seen for any of my projects that I've pushed out thus far."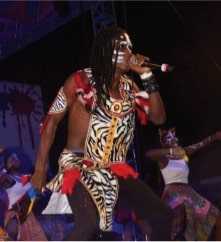 The twenty-one-year-old Puerto-Rican born artist revealed that though he should not be surprised because of the vast amount of planning and research put into the project, "the overboard project has taken off to heights that I never imagined I could reach at the moment."
The promotional video—a short acoustic version of the song—was also well received with 18,000 views thus far.
He explained that the idea for the project was derived during the COVID-19 lockdown last year as he "reminisced on life before the pandemic."
"It basically means that as soon as this pandemic is over, I'm going to go overboard because I've been longing for this," he said with eagerness.
King Vicious—who is also an exceptional songwriter, musician, and producer—shared that there is still much more to come.
And in just a few days, he will be perfecting his craft at a school in the United States.
King Vicious said that his intention is to "better my craft, better my brand, network with people who are in the industry so that I have a more marketable sound, a more marketable image."
The multi-talented artist began learning the ins and outs of music at the Le Chateau D'or music academy at the age of nine and, like any other exceptional artistes, he followed up his love for the artform by singing in church at the age of eleven.
He later went on to win the Junior Calypso Monarch competition twice in a row, in 2017 and 2018, earning the moniker of 'King Vicious.'
Fast forward to when Antigua and Barbuda introduced Junior Soca Monarch into its Carnival festivities, he began nabbing hearts and crowns.
He became the first runner up in the inaugural competition.
Since then, he has captivated many audiences and judges in local, regional and international competitions.