'First Family' welcomes a baby girl
Prime Minister Gaston Browne, and his wife, Housing Minister, Maria Browne have announced the birth of their second child, Peace-Marie Xandra Browne. The Housing Minister announced her safe delivery via a social media post on Saturday afternoon.
"Happy to announce the arrival of our sweet baby girl, Peace-Marie Xandra Browne, born 18th September 2020. God has truly blessed us and we are so very thankful for all of your prayers and kind words. Prince & Peace … our hearts are full," Minister Browne's brief
announcement stated.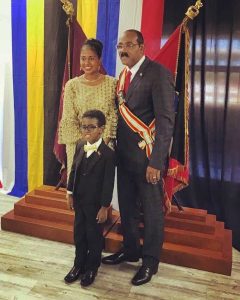 Prime Minister Browne also took to social media to indicate that both the baby and his wife were healthy and doing well. He also thanked well-wishers for their kind words and support. Executive Assistant to the Minister, Nadine Armstrong, also reached out to PointeXpress to extend congratulations to the couple on behalf of her secretariat.
"Throughout the pandemic and Minister Browne's maternity, she has constantly  communicated with and managed the operations of both her constituency and ministry," Ms. Armstrong said. Armstrong continued, "Minister Browne was committed to ensuring families within her constituency received support for back to school. Through her, we were able to distribute 116 pairs of school shoes, over 150 school bags and other essential school supplies. She has pushed for the current road works within the constituency to continue and earlier this month initiated a once weekly hot meal programme. Clearing of empty lots and lands in the wake of hurricane season was also on her priority list," the Armstrong revealed. In conjunction with Daryl George of Total Imports, Minister Browne also organized the distribution of cleaning and sanitizing products to nursing homes in her constituency, St. John's Rural East.