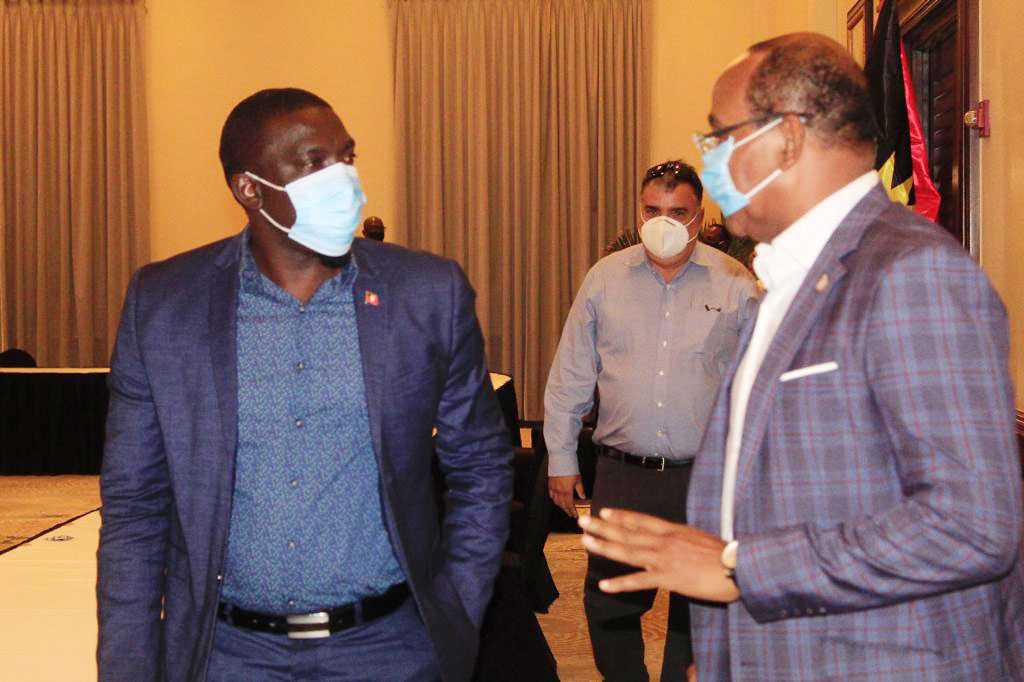 ERC Investment forum hailed 'successful'
Thursday's Investment Forum organised by the Economic Recovery Committee (ERC) to promote local investment in a number of projects being spearheaded by the government is being hailed as a success.
Just hours after the event concluded at the Sandals Grande Antigua Resort, Chairman of the sub-committee planning the event, Ambassador Daven Joseph, reported that he had received several inquiries from nationals, at home and in the diaspora, who were requesting additional information about the projects and how they can get involved.
"The response has been remarkable with people expressing interest in several projects and expressing a strong desire to invest. People are not only expressing interest in the Willoughby Bay Development, but the other projects unveiled at the forum on Thursday," he remarked.
He added that the ERC welcomes the interest of potential investors. 
"We still want more people to come forward as there is always room for locals to take control of these projects," he stated.
During the event, presentations were made led by Prime Minister Gaston Browne who urged nationals to put aside their risk-averse posture and develop an entrepreneurial spirit that will result in great benefits for themselves and the nation.
As many nations begin to look inwardly because of the effects of the COVID-19 pandemic, the prime minister said Antigua and Barbuda will have to become more self-reliant as foreign direct investment will very likely decline.
Since assuming office in 2014, Browne remarked that his administration has encouraged local ownership and investment. 
"The objective of these initiatives is to facilitate broader ownership as we want nationals to control the commanding heights of our economy. The only way to achieve this is by ownership," he stated.
Trade Minister, E. P. Chet Greene, meanwhile, said he is pleased with the enthusiasm of the participants who attended in person at Sandals and online via ZOOM. 
"This shows me that there is an appetite to see the national economy rebound and hence the level of support from those who participated. I am told that approximately 150 persons joined by virtual means," he remarked.
ERC member, Patrick Ryan, also encouraged increased participation by nationals in Antigua and Barbuda's economic affairs. 
"Our goal today is to present a picture of a large scale development, which is basically a co-op where each individual owns his/her own entity which is ultimately linked to the larger project," he explained.
Ryan noted that Antigua and Barbuda has much to offer to those willing to invest and expressed his desire to see nationals come forward in large numbers to claim a stake in these developments.
Opposition Leader, Jamale Pringle, who was invited to offer remarks, congratulated the ERC's technicians and other members of the planning committee for their work. 
While he declined an earlier offer to participate in the ERC's work, following Thursday's presentations, Pringle said he anticipates a bright future for Antigua and Barbuda, whether under the watch of an ABLP or UPP-led government. 
"What is important is the vision going forward to see a plan for Antigua and Barbuda. Not only an economic plan, but a national plan going forward for the nation," he stated.
He is also suggesting that the projects be private sector led in order to achieve a greater buy-in by the public.