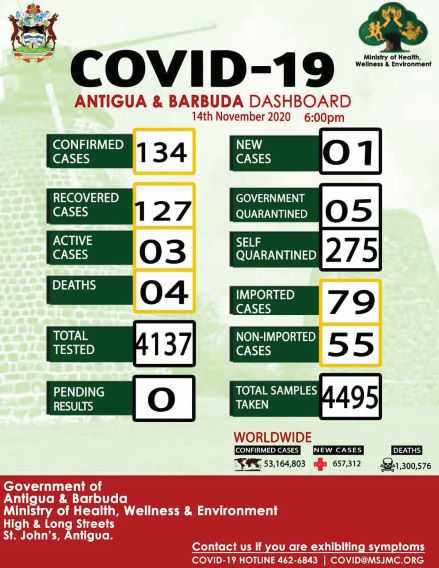 COVID-19 death under investigation
One day after Antigua and Barbuda recorded its fourth COVID-19 related death, health authorities revealed one new laboratory-confirmed case on Friday 13th November 2020 at 6 pm.
In an update on Saturday evening, the Ministry of Health said subsequent to the publication of the dashboard on Thursday 12th November 2020 with the cut off time of 6 pm, eighty-five samples were processed at the Mount St. John's Medical Centre's Laboratory and eighteen by CARPHA which increased the pending results from zero to one hundred and three.
All eighteen samples processed by CARPHA yielded negative results and are reflected in the 'total samples taken' and 'total tested' columns of the dashboard.
Of the eighty-five samples processed by MSJMC, eighty-four were negative and one was positive.
One day earlier, the ministry reported the country's fourth COVID-19 death. The victim is a Venezuelan national who had arrived in the country on November 6 to carry out maintenance work at the APC power plant. 
Although he arrived with a negative COVID-19 certificate, shortly after his arrival he began showing symptoms. 
A nasopharyngeal swab, taken on November 11 returned a positive for SARS CoV-2, the virus that causes COVID-19, at the MSJMC laboratory.
The individual was immediately isolated and contact tracing began. He was transferred to MSJMC where he suffered what is believed to be cardiac arrest.
Ministry of Health officials met with APC's management and a number of people who came into contact with the victim were identified and quarantined.
Meanwhile, two new recovered cases have been recorded bringing that total to one hundred and twenty-seven.  
Consequently, the total number of persons with laboratory-confirmed COVID-19 cases in Antigua and Barbuda is one hundred and thirty-four (134) with three (3) active cases and four (4) deaths. 
The dashboard has been updated to reflect these changes.