CIP holds steady throughout pandemic
Interest in the Antigua and Barbuda Citizenship by Investment Programme (CIP) and the volume of applications received have held steady throughout the pandemic. This is the  word from the CIP office which said Antigua and Barbuda was performing well even as other countries with similar programmes have reported a decline.
A recently concluded Citizenship by Investment Programme Webinar organized by AAA Immigration based in Dubai and Client Referrals, authorized overseas marketers, has reportedly placed Antigua and Barbuda in a favorable position to attract an increased
number of applicants. According to the Chief Executive Officer of the CIP Unit, Charmain Donovan, about two hundred persons participated in the webinar which was organized to present updated information on the programme and the country's status to potential  clients.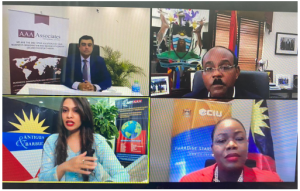 Prime Minister Gaston Browne, who was a featured presenter during the webinar, highlighted how Antigua and Barbuda has managed the COVID-19 pandemic. Browne also underscored the importance of the CIP to the country. Donovan indicated that the information provided was well received.
"I am feeling very confident and very positive. Every time we have the Prime Minister join us on a webinar we attract more interest and attention. It adds more credibility to the process," Donovan said. Last week's webinar was the 10th in a series. The CIP boss explained that Antigua and Barbuda has positioned itself as a favorable option during the pandemic as its operation was not thwarted by the government lockdown.
"We were the only programme that was open through the lockdown. We found a way to ensure the safety of staff while still being able to offer services to persons. I think that augured well for the programme as a whole. The queries kept coming in and even though everyone would have experienced some sort of shortfall in terms of the level of submissions, now we are actually seeing the levels go back up to what we are accustomed to in terms of the submissions." Donovan indicated. The CEO went on that the unit's streamlined electronic application process has improved the efficiency and ease of doing business.
"We have been able to see a steady interest and now we are seeing an upturn in the number of applications come in. I think because we were able to roll out the electronic portal where the agents are able to submit the applications electronically," she explained.
Donovan also explained that a number of factors including safety, mobility, and security, contribute to the attractiveness of Antigua and Barbuda to potential clients as a CIP option.