Chinese firm chooses Antigua for regional headquarters
The China Civil Engineering Construction Corporation (CCECC) is constructing its regional
headquarters here in Antigua. CCECC is behind several major projects in Antigua
and Barbuda, including the V. C. Bird International Airport terminal building. Prime Minister Gaston Browne confirmed the development after he posted a photo on social media recently.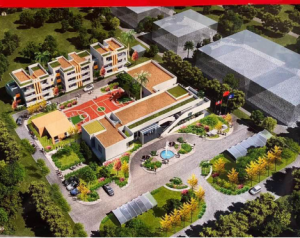 "China Construction design concept for its Caribbean Headquarters. The government sold them five acres of land at $10.00 per square foot to facilitate the construction of their headquarters located at the back of Sir Viv Richards Stadium," said the photo's caption.
The announcement comes in the midst of heated nationwide speculation over development that has begun in the area north of the Sir Vivian Richards Stadium.
Concerning the sale of land to CCECC, PM Browne continued, "My government transferred a total of ten acres of land to Chinese interests. Five of the ten acres were a gift to the People's Republic of China to conduct a US$23M embassy and residence. It's not unusual for countries to build embassy buildings in foreign countries. We also sold five acres
to China Construction to build their headquarters for the Caribbean here in Antigua. The presence of China Construction will result in a transfer of technology to locals and the development of a building construction export market."
The country's leader went on to say that CCECC has been conducting business in Antigua and Barbuda for well over ten years. "China construction has been operating in Antigua for over a decade and is responsible for the construction of the airport, new cargo port facilities, and several other buildings gifted by the People's Republic of China to the government of Antigua and Barbuda," Browne said on Facebook.
Ground was broken on the project on September 16th. It is expected that it will be completed in eight to ten months. The project will include a corporate office building, housing quarters and recreational facility. In 2018, during high level talks with the Chinese
diplomatic core and the president of the China Civil Engineering Construction Company (CCECC), Prime Minister Browne recommended that because of the CCECC's strong ties
with the people and Government of Antigua and Barbuda, Antigua would be
the ideal location for its regional headquarters.
According to reports, CCECC has been listed among the world's top 100 international contractors for seventeen consecutive years by the Engineering News Record "ENR".
According to ARUP, an international independent firm of designers, planners, engineers, architects, consultants and technical specialists, "CCECC has now established resident offices or project management headquarters in 101 countries around the world."