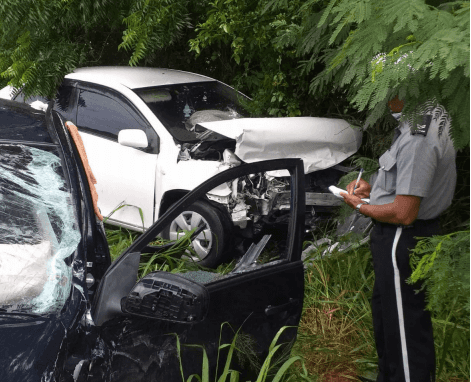 Big jump in traffic accidents
The Police Traffic Department is blaming negligence for a sharp increase in traffic accidents over the last week. Assistant Superintendent of Police, Rodney Ellis, who heads the Traffic Department said over the last seven days a total of 67 collisions were reported and on Tuesday at noon there were five. Noting that most of the accidents were minor incidents, they reveal a disturbing pattern that needs to be addressed urgently.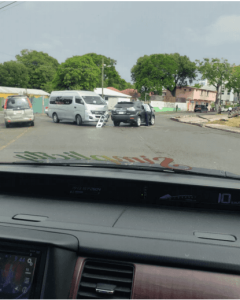 "What I can say is that these accidents are caused by negligence from the drivers. Most of them are minor, and these are when people are not paying attention to what they are  doing. When you get behind the wheel of a vehicle your focus must be on the road, your hands on the wheel and your eyes on the road. Once you do that, some of these accidents can be avoided. I am therefore advising motorists to focus on the road ahead to avoid
accidents," he urged.
He is also advising drivers to look out for other drivers and pedestrians. ASP Ellis also  admitted that speed bumps installed by the Antigua and Barbuda Transport Board have
contributed to some accidents. "The type of asphalt that we use here is not suited for the speed bumps now being deployed because as soon as you drive over them they soon begin to move away. I have been in touch with the ABTB to inform them of the issue," he reported.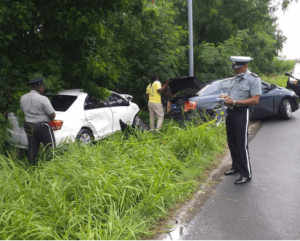 Despite criticism from motorists that the rubber speed bumps were unsuitable for Antigua's roadways, the Antigua and Barbuda Transport Board has defended their installation which they view as a deterrent to drivers who insist on speeding. In less than a year however, the speed bumps have caused among road users. Many have become uneven while others have sunken into the asphalt. There are also those that have metal bolts protruding from them that can cause major damage to tires which can also contribute to accidents.