(Reggaeville.com) – The 63rd Annual Grammy Awards will air on CBS on Sunday night. It is often referred to as the biggest night in music as the Grammys are music's equivalent to the Academy Awards for movies. Congratulations to all nominees! 
What are the eligibility requirements for nominations?

 For the 63rd Annual GRAMMY Awards, recordings must be released between September 1, 2019, and August 31, 2020. To be eligible, recordings must be for sale commercially via general distribution or made available as a digital recording, either for sale or via a recognized streaming service. 

To be considered an album, recordings must contain at least five different tracks and a total playing time of 15 minutes or a total playing time of at least 30 minutes with no minimum track requirement. Recordings (albums/singles) must be available to the public as stand-alone purchases or audio-only streams.
BEST REGGAE ALBUM – NOMINEES
Shortly after the Grammy announcement The Wailers' Aston Barrett Jr. told Reggaeville: "I am more than thankful to the Academy for the nomination of The Wailers for best Reggae Album of the year. We have worked so hard to create this album. For years, I have been carrying the sound & legacy of the Barrett family and to be honoured by this nomination is very touching. Special thanks to Emilio Estefan, everyone at Sony Latin and our talented team for all their dedicated hard work. One World, One Love!"

In reaction to the nomination Buju Banton published a short statement on social media "Let the music speak, I wanna be a silent listener. Thanks to all. A telling album in telling times." 
NOMINATION FACTS
Maxi Priest's

 album is the only release from 2019. Third Grammy nomination. 

Shaggy

 is featured on four songs on

 It All Comes Back To Love

.

Buju Banton

's 5th nomination. One win. 

Skip Marley

's Higher Place 7 track EP features 

Damian Marley.
Toots & The Maytals 

6th nomination (plus one for the album 

Toots in Memphis

 by 

Toots

). One win for 

True Love

 (2005).

Toots Hibbert 

passed away September 11, 2020. So far there has only been two posthumous nominations in the Reggae category, when 

Dennis Brown

 (RIP 1999) was nominated for his 2000 album 

Let Me Be the One 

and 

Peter Tosh

 (murdered in September 1987) with 

No Nuclear War 

(1987), which was awarded as winner in March 1988.

First nomination for 

The Wailers

 led by 

Aston Barrett Jr.
Skip Marley's 

mother 

Cedella Marley

 is featured on the 

Wailers

' album title song. So is 

Shaggy

!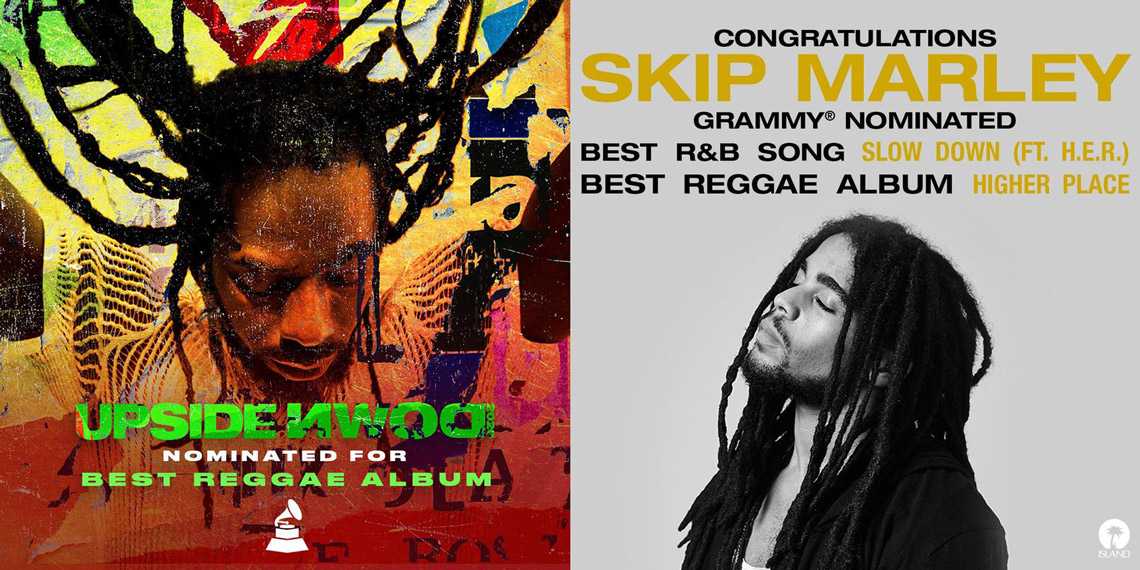 Skip Marley got a second nomination in the category BEST R&B SONG for his combination Slow Down with H.E.R. 
Recent album releases by Ziggy Marley (More Family Time), Shaggy (Christmas In The Islands), and Spragga Benz (The Journey Choosen), were released after August 31. They have to be submitted for the next Grammy.

The 63rd Annual GRAMMY Awards, hosted by comedian Trevor Noah,  will be broadcasted on the CBS Television Network on March 14, 2021 (originally scheduled for Jan. 31, 2021).