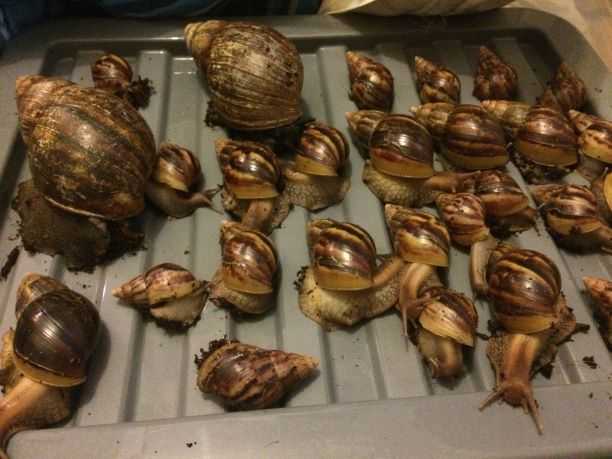 Authorities hope recent flood has reduced Giant African Snail population
Dr. Janil Gore-Francis, Antigua and Barbuda's Chief Plant Protection Officer, is hoping that some of the giant African snail population was eliminated during last week's flooding.
Various methods have been employed to rid the country of the invasive species. A task force was also established to deal with collection and eradication of the snails.
Dr. Gore-Francis said, however, that it is likely that some of the snails escaped the flood waters by climbing into trees which prevented them from being washed away. 
"What we suspect and hope is that a good few of these snails would have been drowned in all that water because they can't really survive if they are submerged, but one of the things they do to handle water is to go up into the trees. So if there are trees or if there are buildings in the vicinity, you would more than likely find them on the trees and walls at this time, but we are hoping that a lot of the water, the torrents, would have drowned a few of them," Dr. Gore-Francis said.
She advised that eradicating the snails from Antigua and Barbuda will require effort, but can be achieved in three to four years with the assistance of all stakeholders, including members of the public.
She noted that the Plant Protection Unit has embarked upon several critical campaigns to help rid the country of the snails in the hope of avoiding a worsening situation.
"Well you see we have to exercise patience when it comes to the giant African snails because we just have to accept the fact that for us to get rid of them it has to be a concerted effort over at least three years; continuously picking them up when you find them," Dr. Gore-Francis said.
The Chief Plant Protection officer continued, "Because they can persist, they can go into a resting phase, they can hide if conditions are not right. They come out, then after that, lay their eggs."
According to Dr. Gore-Francis, based on the biology of the snails, people cannot expect a miracle unless a natural predator of the snails were to be introduced to control or eliminate them.
Giant African snails have caused destruction to crops and have invaded homes across the island.