Asot Michael suspended from parliament
Embattled Saint Peter Member of Parliament Asot Michael will be the first member of the House of Representatives to be referred to the Parliamentary Privilege Committee. Michael was ejected from Parliament by Speaker Sir Gerald Watt before the session re-convened this morning. The reason? a tirade in which he was verbally abusive to the House Speaker and also Barbudan M.P Trevor Walker.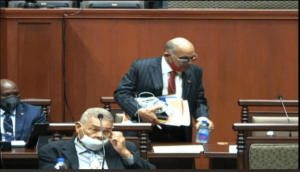 According to Sir Gerald, police officers reported that MP Trevor Walker was subjected to similar abuse from Michael who lately has been caught up in controversy on several fronts. Now, the incident is to be addressed by a Parliamentary Privilege Committee.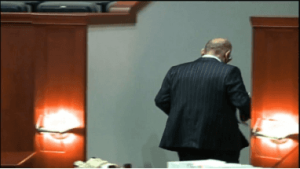 Following the incident last evening, M.P Michael made an attempt this morning to apologize to Sir Gerald Watt, but his apology was rejected. No timeframe was given as to when the Privilege Committee will be appointed. That means Asot Michael's ban from the parliamentary chamber can remain in place for some time. The Privilege Committee can recommend sanctions that include suspension from the House of Representatives.
While on his way out this morning, the Saint Peter MP asked that the speaker direct him to the Standing Order to support his decision. However, it was not a request Sir Gerald Watt was willing to entertain.