Asot Michael settles civil case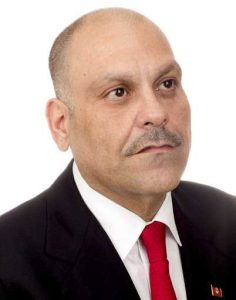 Saint Peter M.P Asot Michael has opted to settle with the virtual complainant in a case that almost landed him in jail.
Michael will now pay Chuka Lewis $ 14,500 for work the man did at a private function at Michael's home several years ago. He was owed $ 15,000.The MPs failure to pay led Lewis to take legal action. He chose the Magistrate's Court to hear his case over the High Court. The lower court's maximum payout was $ 15,000.
The trial was presided over by Chief Magistrate Joanne Walsh and was being drawn out as a result of defendant's absence through the submission of sick leave. It was his third sick leave submission through his lawyer on 9th September that Asot Michael's physician; Dr. Jason Jason Belazaire was summoned to court and asked whether the M.P was of sound mind and whether he was unable to be present at trial, to which the doctor reportedly stated Michael was in a position to attend court.
Refusing to accept anymore sick leave, a bench warrant was issued by the chief magistrate for the arrest of Asot Michael. The following day 10th September, Michael dodged being arrested, showing up in St. John's Magistrate's Court with his attorneys. The attorneys pleaded on their client's behalf for him to be given a second chance, since it was not his intention to be disrespectful to the court. For his part, the Member of Parliament for St. Peter apologized to the chief magistrate for his actions, telling her he was indeed ill and gave an undertaking that he will be in court when next the matter came up for hearing.
During that time, Chief Magistrate Joanne Walsh recused herself from the case, following a petition from the MP's attorney. In part, the chief magistrate had no authority to issue a bench warrant, adding, "It is no longer appropriate for you now to continue to exercise any judicial function in this matter going forward. Your actions undermine the necessary objective perception of the administration of justice as independent and untainted by bias, whether conscious or unconscious bias.
The case was transferred to Magistrate Dexter Wason on Monday, where it was to being all over again. But Asot Michael, who was in court moved to settle the $ 15,000, with $14,500, which the complainant Chuka Lewis accepted.